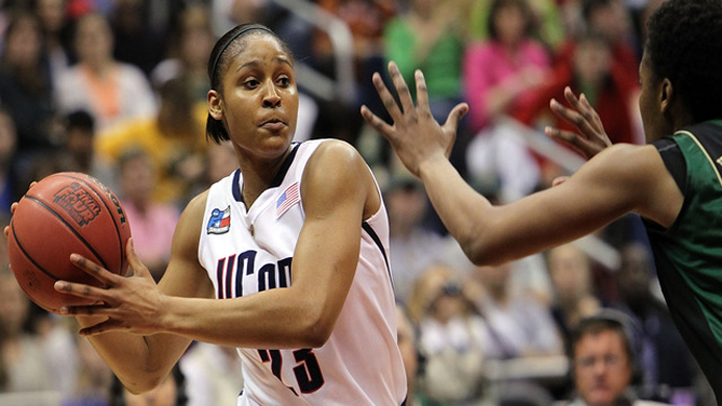 Kemba Walker's professional future won't be decided for another week, but the other "best player in the country" at UConn last season, Maya Moore, has gotten off to a strong start for the WNBA's Minnesota Lynx. Moore was the first-overall pick in the 2011 draft and through the first four games of the season she's more than holding her own.

The Lynx, which had finished no better than fifth in the Western Conference the previous six seasons (and last qualified for the playoffs in 2004), currently sit at 3-1, good for second place. (Also worth noting: the Lynx began the week atop the WNBA's power rankings for only the second time since 2005.)
There's a long way to go, obviously, but for the first time in a long time, there's hope. And Moore, to a large extent, has something to do with that.

Moore currently ranks 21st in the league in scoring average (14.5), and 28th in rebounding (5.0) and steals (1.25). Among rookies, Moore is third in scoring, rebounding, steals and assists (2.25). She's also averaging 30.3 minutes a game, shooting 44 percent from the floor (31.8 percent from three), and 87.5 percent from the foul line.

So is Moore the WNBA's best rookie? It's still too early to say, although SB Nation's Nate Parham breaks down seven candidates in the running. Here's what he had to say about Moore:
Wows: The athleticism and beautiful jumper that Moore showed in college is still with her in the pros and she's used it effectively by finding spaces in the defense where Lynx point guard Lindsay Whalen can set her up for scoring opportunities. She's a solid passer but her defensive rebounding for her position stands out as the next biggest asset she's bringing the Lynx.

Wonders: Does it matter that she doesn't get to the free throw line more often? Given how the Lynx play, it's not surprising that she doesn't, but getting to the rim more often certainly wouldn't hurt, as maybe hitting the offensive glass more often wouldn't either.
The six other rookies Parham mentions: Danielle Adams and Porsha Phillips, San Antonio Silver Stars; Liz Cambage and Kayla Pedersen, Tulsa Shock; Danielle McCray, Connecticut Sun; Courtney Vandersloot, Chicago Sky.