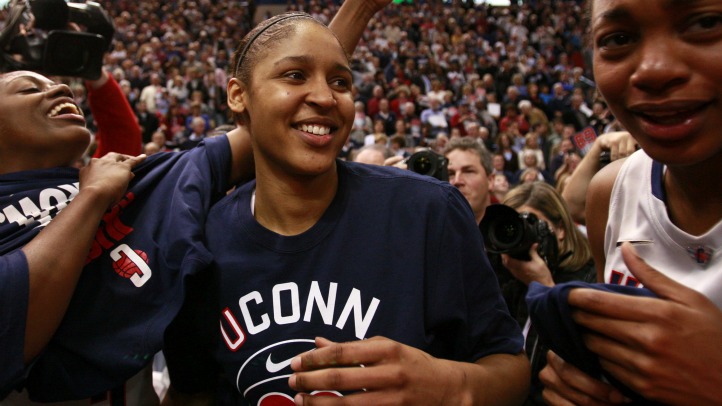 Maya Moore hasn't missed a beat since leaving UConn for the WNBA. A transition that usually takes years for most players, happened in the span of a few months. In April, Moore led the Huskies to their fourth consecutive Final Four, and here we are in early July and one of the league's best rookies, fresh off a great performance against her former college teammates, is not only headed to the All-Star game, she'll be starting.
Moore, who is averaging 14.5 points a game this season, led all Western Conference forwards in All-Star voting. Maya ended up with 21,379 fan votes, fourth in the league, and she'll be the first rookie voted to start since 2002.
"Any time the fans take the effort to reach out to show that they want to see you play and appreciate your game -- it always feels great," Moore said, according to the StarTribune.com.
And while Moore's accomplishment is certainly noteworthy, she's not the only former Husky on the All-Star roster. She'll be joined by Tina Charles, Diana Taurasi, Sue Bird and Swin Cash.
The Hartford Courant's John Altavilla provides some background:

Moore, UConn's first four-time All-America and career scoring leader, is the first rookie to start in an All-Star Game since Bird and Tamika Catchings of the Indiana Fever both did it in 2002.
All five players were integral components on the 2010 World Championship team coached by UConn's Geno Auriemma. And all five are expected to be on the roster for the 2012 Summer Olympics in London.
Taurasi (19.8) and Charles (18.1) are second and third in league scoring behind Sylvia Fowles of the Chicago Sky.

If nothing else it's a nod to what Geno Auriemma has built at UConn. There's no let up on the horizon with his teams. The 2011-12 team will be young but formidable, and no one would be surprised if they again win the Big East and end up in the Final Four for the fifth time in as many years. Geno, apparently, doesn't believe in rebuilding.