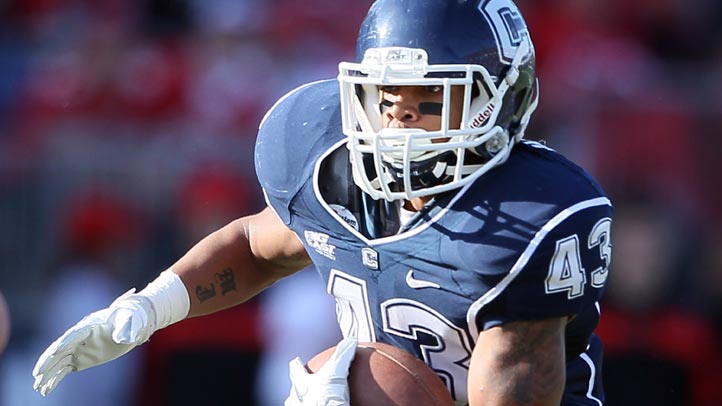 The biggest game of Huskies' season got off to an ignominious start when the team's best offensive player, running back Lyle McCombs, was standing on the sidelines as his teammates took the field against Rutgers. McCombs, it turned out, had been arrested Friday for second-degree breach of peace. The incident took place on campus and according to campus police, McCombs had yelled, spit on and pushed his girlfriend, who was also arrested, outside a residence hall.

"I just got put in a bad situation, and I could have handled it better. It is what it is I apologize for my mistake," McCombs said via the Hartford Courant's Desmond Conner. "I got put in a bad situation … coach's decision."

It's McCombs' second arrest since coming to UConn. Coach Paul Pasqualoni suspended McCombs in January 2011 following marijuana possession charges. McCombs was sidelined till April and admitted at the time that the suspension gave him plenty of time to think.

"I wasn't allowed in the building. I wasn't allowed to eat or work out with the team. I wasn't allowed to practice," McCombs said in April 2011. "I'm just thankful for another chance. … There are certain things as a college athlete you can't do and I was trying to do it. I was basically throwing away free money so I'm just happy for the second chance to be back here and just do what I was born to do, and that's play football."

It's a nice sentiment, but McCombs clearly lost his way late last week. We don't say this in a finger-wagging, tsk-tsk sorta way but the reality is that McCombs has to be smarter. Never mind hurting his team, spitting on or pushing anyone is unacceptable. But there's also two sides to every story and when Pasqualoni was asked if the one-quarter punishment would be it for McCombs he said "Yeah. I got the whole story from very reliable sources."

Whatever the details, this much is certain: the McCombs subplot didn't help the Huskies in Piscataway. They looked out of sync early but kept the game close … and then the second half happened. McCombs wasn't the reason UConn lost, but for a club with such little margin for error, the distractions have to be minimized. Now it'll be up to McCombs to help the Huskies (3-3) get back on track.

"Lyle will be all right," senior linebacker Sio Moore said via the Hartford Courant. "He's a hard-working kid. I'm with Lyle all the time. I'm one of the guys who kind of took him under my wing. He has the flame under him."