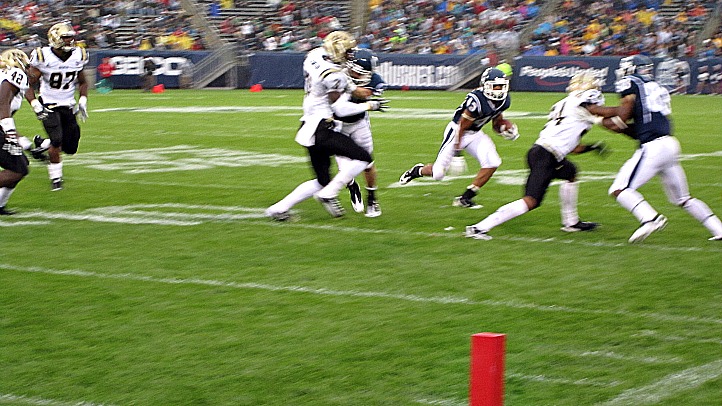 We mentioned Tuesday that Huskies freshman running back Lyle McCombs won the team's Offensive Player of the Year award. It was a testament to what he accomplished (1,151 yards, 7 TDs, 4.2 YPC), but also his importance in an offense that was without a passing game for most of the season. A year ago, Jordan Todman was the Big East Offensive Player of the Year (by comparison, he had 1,695 yards, 14 TDs, 5.1 YP as a junior in '10).

That's the difference between a second-half season surge to a share of the conference title and a BCS Bowl berth and limping to the finish line, 5-7. But UConn's inconsistency this season wasn't a surprise; they had a new head coach, a new system on both sides of the ball, and plenty of new faces, particularly on offense.
No one likes to admit it but it was a rebuilding year. Still, there were bright spots, McCombs chief among them.

In addition to the team honor, ESPN.com Big East blogger Andrea Adelson named McCombs as one of her top impact freshmen.

"McCombs was expected to share carries with D.J. Shoemate when the year began," Adelson wrote Wednesday. "But after Shoemate got hurt, the rushing load fell to McCombs and he delivered. McCombs led the Big East in rushing with 1,115 yards -- the ninth-highest single-season total in school history and the second among freshmen at UConn. He was a second-team All-Big East selection, and also ranked No. 3 in the Big East in all-purpose yards. He ranks No. 24 on the Scouts Inc., list. They say, 'McCombs is an undersized back with a nice combination of quickness and elusiveness as a runner. He flashes exceptional lateral agility to make defenders miss in a confined area and has the acceleration to squeeze through tight creases.'"

If nothing else, it's one less thing Paul Pasqualoni has to concern himself with heading into spring practices. And with Connecticut state player of the year Casey Cochran set to enroll at UConn before the 2012 season, the Huskies could also have their quarterback position settled if not immediately, in the near future.

Adelson had freshman linebacker Yawin Smallwood on her list. "Smallwood finished tied for No. 6 in the Big East with 94 tackles, including 1.5 sacks, two fumble recoveries and an interception."

So, yes, things could be worse. UConn could be the Maryland Terrapins.