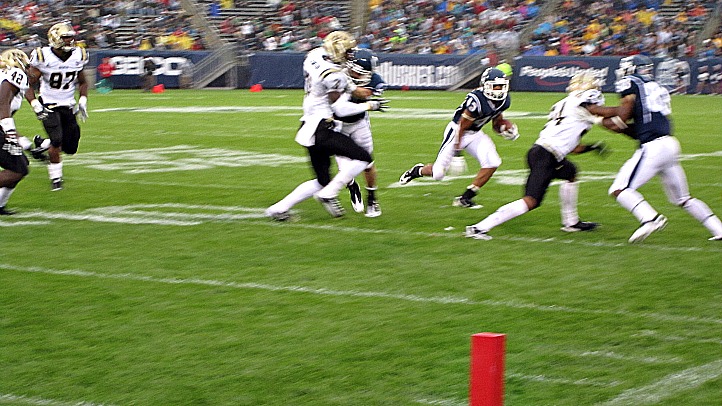 We talked Monday about the Huskies' sophomores and how important they will be to any success this team has in 2012. The conversation starts with quarterback Chandler Whitmer, the junior college transfer who outplayed the competition in spring practice, continued to do so early in training camp prompting coach Paul Pasqualoni to make the official announcement weeks before the season opener. Unlike last year, it was one less thing he had to worry about.

UConn had no such luxuries a year ago; former walk-on Johnny McEntee won the job, but struggled with consistency from start to finish (though, to be fair, he did improve later in the season, just not enough to keep a hold on the job through offseason workouts). One of the few offensive bright spots came in the form of 5-8, 170-pound running back Lyle McCombs. The freshman ran for 1,151 yards and seven touchdowns and earned Freshman All-American honors by the time it was over.

And while it's presumptuous to suggest that the offense will run through McCombs this season, it's certainly reasonable to think that he will be a big part of it, even if there are other playmakers on that side of the ball. Either way, ESPN.com Big East blogger Andrea Adelson is running down the 25 best players in the conference and she's down to No. 10. If the first three paragraphs didn't clue you in, she has McCombs as a top-10 Big East performer.
Lyle McCombs made an impressive debut last season. Remember all the talk going in was how D.J. Shoemate would impact the running game? After Shoemate got hurt, all eyes turned to McCombs, who was the only consistent part of the offense last season. Though teams loaded the box every week to try to put the game in the hands of the quarterback, McCombs still finished second in the conference (in rushing). His 95.92 yards per game average ranked him No. 2 among all freshmen last season.

Folks have taken notice. McCombs was listed on the preseason watch lists for the Doak Walker Award (top running back) and Maxwell Award (best football player). McCombs got the majority of the carries last season with 275 -- the next highest went to Wildcat quarterback Scott McCummings with 74. Developing depth behind McCombs has been a big key this fall for coach Paul Pasqualoni, but he is a coach known for sticking with one back and riding with him. McCombs will once again be that man this year.
The Huskies' best chance at improving on its 5-7 record can be boiled down to this: consistency on defense and balance on offense. A year ago, the former had lapses, particularly against the pass. And the latter couldn't muster a passing game. Now with Whitmer and McCombs in the backfield, that should change.

In case you're wondering, Adelson has cornerback Blidi Wreh-Wilson at No. 24, tight end Ryan Griffin at No. 20 and linebacker Sio Moore at No. 14.