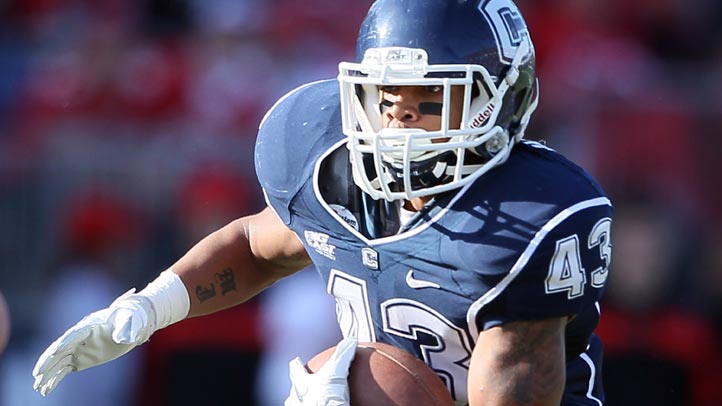 The Huskies arrived in Piscataway, NJ Friday with their offensive best player, running back Lyle McCombs, fresh off being arrested for second-degree breach of peace after he allegedly yelled, spit on and shoved his girlfriend outside a residence hall on campus.

After McCombs spent the first quarter on the bench of a game that UConn would go on to lose to Rutgers, 19-3, McCombs said that "I just got put in a bad situation, and I could have handled it better. It is what it is I apologize for my mistake. I got put in a bad situation … coach's decision."

The next day, we called McCombs' arrest a huge distraction.

McCombs again addressed the matter Tuesday.

"The only thing I can say is I apologize," he said according to the New Haven Register's Jim Fuller. "It makes me and her (his girlfriend) seem like people we are not. I have already apologized to her for that and hopefully people can forgive me for this situation. I am really sorry about it. It is uncharacteristic for me. I am looking to learn from it and hope and pray to move on and learn a big lesson.

"I need to be as careful as possible and I put myself in a tough situation," McCombs continued. "At the end of the day I was a distraction with what happened. I apologized to my teammates. I don't want to say I am to blame for the game on Saturday but I was a distraction."

Pasqualoni said over the weekend that McCombs' one-quarter punishment was sufficient ("Yeah. I got the whole story from very reliable sources," he said), which means the sophomore running back should be in the starting lineup when UConn hosts Temple this Saturday.