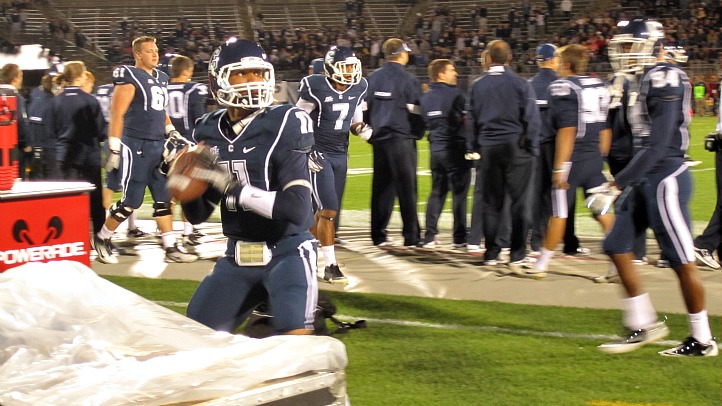 A year ago, Scott McCummings was used as a change-of-pace quarterback, spelling starter Chandler Whitmer and bringing a wildcat/read-option dynamic to UConn's offense. On Saturday, he was lost for the 2013 season after tearing his left Achilles tendon during practice, the team reported.

The Huskies' 2013 season officially got underway Friday with the first practice of the preseason. McCummings had limited success in previous offensive coordinator George DeLeone's wildcat schemes -- and it wasn't McCummings' fault, but a result of playing in an offense that lacked an identity, or a consistent offensive line. Here's what we wrote last September, following the Huskies' loss to NC State, and imminently winnable game.

"Get rid of the wildcat. It may have worked three or four years ago, but the scheme has run its course. Opponents seem to have it figured. Coach Paul Pasqualoni says the wildcat forces defenses to devote practice time to it. Fair enough, but UConn's offense is also devoting practice time to it, and that practice time might be better utilized (like, say, by getting Whitmer more touches). This doesn't mean that Scott McCummings should be benched, just that Pasqualoni and offensive coordinator George DeLeone need to find more effective ways to use him."

DeLeone has been demoted and TJ Weist is now the new offensive coordinator. Pasqualoni said recently that McCummings was still in the mix at quarterback, and here's how quarterbacks coach Shane Day described McCummings to the Hartford Courant back in February.

"He does have a unique skill set compared to the other quarterbacks in that in our previous offense he was a wildcat quarterback," Day, a former assistant coach with the Chicago Bears, said at the time. "We still have elements of that in our offense but what we've we had to come to or evolve to is that all the quarterbacks in our system here are all expected to be able to operate the entire offense, which from the beginning, is really what we were trying to do with Scott. I mean that's really what Scott wants to do. He doesn't just want to be the wildcat quarterback."

For now, the Huskies move forward at the position with Whitmer, Casey Cochran and freshmen Tim Boyle, Kivon Taylor and Richard Lagow.