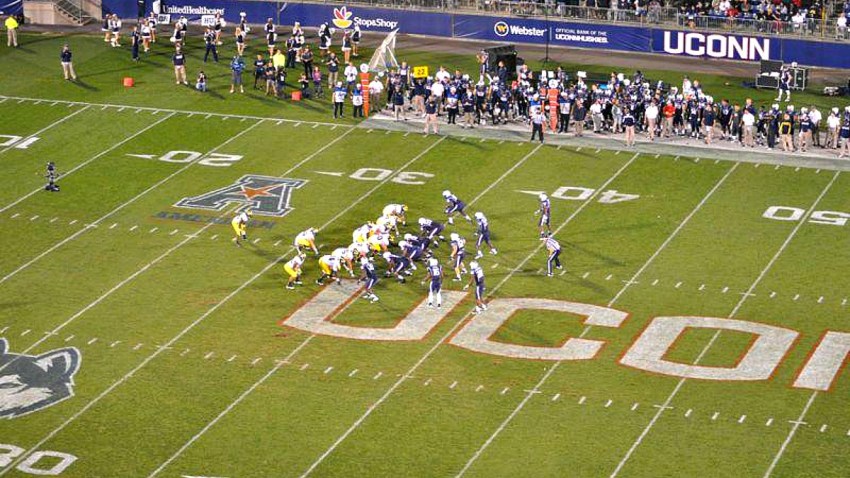 We've touched on this at various points in the previous weeks and months: If the UConn football program is doing to differentiate itself in the American Football Conference, it's going to start with stellar recruiting. So far, we haven't seen the fruits of Paul Pasqualoni's recruiting labor, although Saturday's near-win at home against No. 15 Michigan certainly won't hurt the effort.

In fact, several recruits were at Rentschler Field Saturday night.

"What I said to them was, 'this is the kind of atmosphere, this is the kind of fan support, this is the kind of game day conditions you'l play in at the University of Connecticut," Pasqualoni said during Sunday's conference call with reporters (via the Hartford Courant). "On our schedule there will be, our conference will be a very tough conference, our non-conference opponents that will come in and out of here are going to be be high-level people just like what you saw tonight.' So it was certainly for recruiting, for exposure, for our program, it certainly was a very, very good night, no question. ...

"We had a lot of kids there," the coach continued. "We had a great time with them in the tent before the game. We had a great time with them on the sideline. As disappointing as it was, they were all in the locker room after the game and we got a chance to talk to them, say hi to them and they had a chance to be a part of great effort and really, a very good college football game. So it was unfortunate … we're disappointed we lost but it was a great game in the state of Connecticut, in the northeast, in our conference, for our university and I thought we got a lot out of it."

As it stands, UConn has 12 commitments for the class of 2014, none of whom rank in the ESPN top 300.