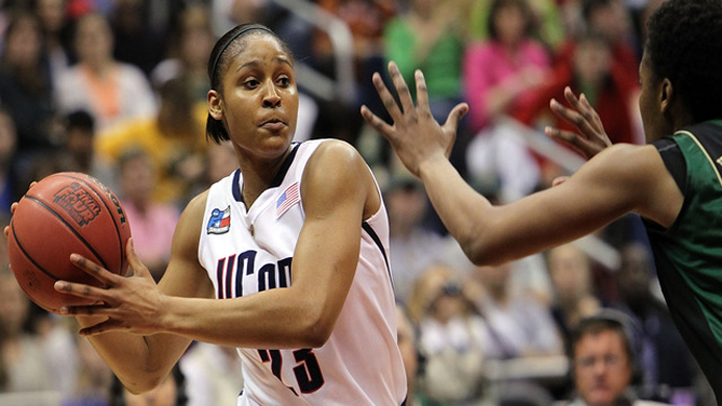 On Monday afternoon Maya Moore will have a new job. The WNBA Draft will take place in Bristol, Conn, and the best player in college basketball will take her game to the next level, a logical conclusion to a fantastic career that netted three national championships and countless individual honors.

The Minnesota Lynx have the top pick and all indications are that they will use it on Moore. Last week, Lynx coach and general manager Cheryl Reeve said that her "franchise is extremely excited about the prospects of a very talented player out of the University of Connecticut," without identifying Moore by name. (In related news: Reeve probably doesn't have much of a poker face.)

But before Moore closes this chapter of her life, the Hartford Courant's John Altavilla reflects back on her contribution to the UConn program and women's basketball. Earlier this week, days after UConn lost their Final Four match-up against Notre Dame, Altavilla wrote:
History will recall this was not UConn's year, not in the way its year has been defined seven times since Rebecca Lobo and Jen Rizzotti first lured the public, in a serious way, to their sport in 1995. … But this was certainly Maya Moore's year. … And you can tell because in the glow of his first national champion in 30 years of coaching, (Texas A&M's Gary) Blair, the Aggies' homespun coach, evoked her name when asked about Notre Dame's sensational sophomore, Syklar Diggins.

"She is not Maya Moore yet," Blair said. "But she [Diggins] may be when she is a senior."
Diggins was the reason the Fighting Irish beat the Huskies Sunday. She scored 28 points, ran the offense to near perfection, and was able to get into the lane whenever she wanted, usually setting up her teammates for easy baskets. As a point guard, her game is different than Moore's, but the results -- taking over games for long stretches, often affecting the outcome -- is very familiar.

But Moore was able to sustain that level of play for virtually her entire career and it's part of what separates her from everybody else.

"Maya is unique in her approach. It's scholarly more so than a developmental approach," said USA Basketball's Carol Callan. … "But all great players want to be better, want to be challenged, want to be pushed and they are not satisfied."

That's where UConn coach Geno Auriemma comes in. If it's possible to be underrated after winning seven national championships, Auriemma might qualify. But the man knows what he's doing and Moore is appreciative of the opportunities she had in Storrs playing for him.

"I feel so much more prepared every time I step on the court because mentally I feel like no one has trained me better or trained our team better to play," Moore said last weekend. "I've learned so much from him."

Moore will get another chance to work with Auriemma. In May she will head to Las Vegas for a few days to train with the USA Basketball program and Auriemma's the coach.

For now she's preparing for her first job out of college, which will likely involve helping the Lynx improve on their 13-21 record last season.

And like all soon-to-be big-name professional athletes, Moore now has representation. She signed with Wasserman Media Group, which, according to the press release, also represents other notable female athletes under Wasserman's Olympic & Women's Sports Division, including Olympic Gold Medalists Diana Taurasi, Sue Bird and Sylvia Fowles as well as Rebecca Soni, Heather Mitts, Hope Solo, Alex Morgan, and soccer legend Mia Hamm.

The WNBA Draft will be Monday, April 11 at 3 p.m. EST with first-round coverage on ESPN and ESPN3.com.