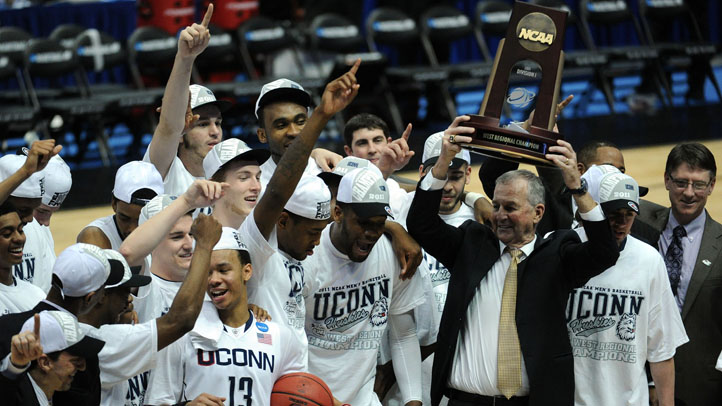 Days after Andre Drummond announced he was headed for Storrs and the adoration continues for the 2011-12 UConn Huskies. And for good reason: they're stacked, even if it means players like Michael Bradley or Enosch Wolf or Niels Giffey could lose their scholarships or leave the program altogether as a consequence.

All things considered, the addition of Drummond is huge news for a program that this spring appeared to be treading water after NCAA sanctions reduced scholarships from 13 to 10, Jim Calhoun was noncommittal on his coaching future, and sixth man Jamal Coombs-McDaniel transferred. Those are now distant memories.
(Even if Calhoun has yet to publicly announce he's returning to the bench we all know he'll be there. No way he hangs it up with this roster.)

SI.com's Luke Winn writes that landing Drummond puts him in elite company.

"The Huskies landed their biggest recruit since Rudy Gay," Winn wrote Tuesday. "Drummond is a high-impact big man who, as he noted, could put them in contention to repeat as national champs. Scout.com recruiting analyst Evan Daniels, who adjusted his Class of 2011 rankings to make Drummond No. 2 overall, the same spot he held in 2012, said that while there are question marks surrounding Drummond's consistency of effort, his potential is clear. 'As far as prospects go, I'm not sure if I've seen a better big man since Greg Oden, in terms of size, skill and athleticism," Daniels said. "His mobility at 6-11 is ridiculous.'"

Oden may not have been much of a pro, but he was a force in college. If Drummond can be that kind of player in the middle of UConn's defense, it will not only make things easier for Alex Oriakhi and Roscoe Smith underneath the basket, it will mean more perimeter opportunities for Jeremy Lamb and Shabazz Napier. Essentially, Drummond makes everyone else better, which is all you can ask for in a player.

Winn adds that "For now, Drummond has to be considered the most significant, late-season addition by a contender in recent memory," before perusing the SI database for similar examples. The three Winn came up with: Daniel Hackett to USC in '06, Bill Walker to Kansas St. in 2007, and Andre Dawkins to Duke in '09. To which Winn observed: "All three were nice players: Hackett stayed for three years at USC and is now a pro in Europe; Walker played two at K-State and is now with the Knicks after being drafted in the second round; and Dawkins is entering his third season at Duke. Drummond, however, is the kind of one-and-done, ultra-athletic big man who only comes around a handful of times each decade."

Exactly. Nice players are, well, nice. Game-changers are a completely different story as the Huskies are about to find out.