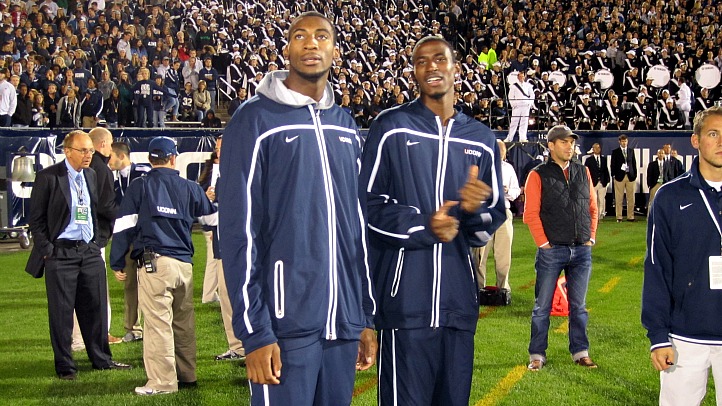 Wednesday was Big East media day and as you might expect, much of the discussion about the Huskies had to do with the preseason expectations. Two years ago, a loaded UConn team stumbled its way through the season; last year, when they were picked to finish in the middle of the pack, Jim Calhoun's team won it all.

Will this time around be different? Players and coaches say yes, obviously, but we won't know for sure until the games begin. For now, expectations are all we have.

On Wednesday, we noted that the Big East writers had UConn's Andre Drummond atop their Rookie of the Year list. The preseason accolades for one of the country's best high school players extends beyond conference honors, though. Drummond's name is also on the preseason Waymon Tisdale Award watch list for the nation's best freshman. He joins three Kentucky players -- Anthony Davis, Michael Kidd-Gilchrist and Marquis Teague -- as well as eight other players: Bradley Beal, Florida; Chane Behanan, Louisville; Khem Birch, Pittsburgh; Le'Bryan Nash, Oklahoma State; Austin Rivers, Duke; Adonis Thomas, Memphis; Josiah Turner, Arizona; and Cody Zeller, Indiana.

But the expectations aren't just on the Huskies. They're also on their opponents, who have to stop UConn. Villanova coach Jay Wright was asked Wednesday about the Huskies' formidable front court and he's not looking forward to that matchup.

"Jim [Calhoun] uses his front court better than anybody," Wright said, according to the Hartford Courant. "And what he did last year, when he was able to play his two big guys [Alex Oriakhi and Charles Okwandu] together, it created real matchup problems. Nobody does that any more, so just by doing what [Calhoun] has always done, it has become unique."

As for the thought of facing Oriakhi and Drummond? "A nightmare," Wright added.

Finally, the New Haven Register's David Borges provides some video from media day, including remarks from Shabazz Napier and Jeremy Lamb, as well as Calhoun commenting on -- you guessed it -- conferences realignment as well as this gem about the 2011-12 squad: "I don't love this team like last year … yet."