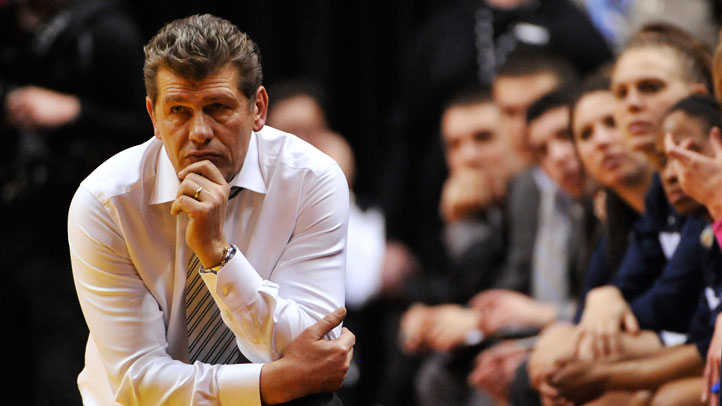 Andre Drummond knows what it's like to be the most sought-after high school player in the nation and experience a completely different basketball reality once he arrived at UConn and got a taste of big-time college basketball. After about six weeks, he's finally starting to settle in, his more recent effort against West Virginia clear evidence of as much.

Kaleena Mosqueda-Lewis, also a freshman, appeared unfazed by the transition from high school to college. Heading into last weekend's game against No. 3 Notre Dame, KML was the team's leading scorer. She had regularly gone for 20 points and provided the Huskies with a much-needed deep threat.

And then a crucial turnover at the worst possible moment showed Mosqueda-Lewis for what she is: a freshman still finding her way.

"I let myself get out of the game, let my teammates down and that should never happen again," Mosqueda-Lewis said according to the Hartford Courant's John Altavilla when speaking about the Notre Dame game. "I really don't know what happened, I just got into a funk and I blacked out, zoned out."

Coach Geno Auriemma could also be certified as a psychologist; he has vast experience with striking the right tone with players based on where they might be in their basketball journey. There's something to be said for a coach who appreciates an approach more nuanced than "yelling and screaming and hoping something sticks."

"If you remember when Maya Moore was a freshman, we went to Notre Dame and scored the first 15 points and everybody thought she was going to get 50. They called timeout and she didn't score again," Auriemma said.

"It's hard for freshmen on the road to be able to sustain any kind of flow for themselves because they get caught up in the big moment of the game. That's why she turned the ball over so many times."

And that's the thing: Maya's college career worked out okay. And we expect Mosqueda-Lewis will have similar success. We just have to keep reminding ourselves that it's a process. Even for the best high school player in the country.