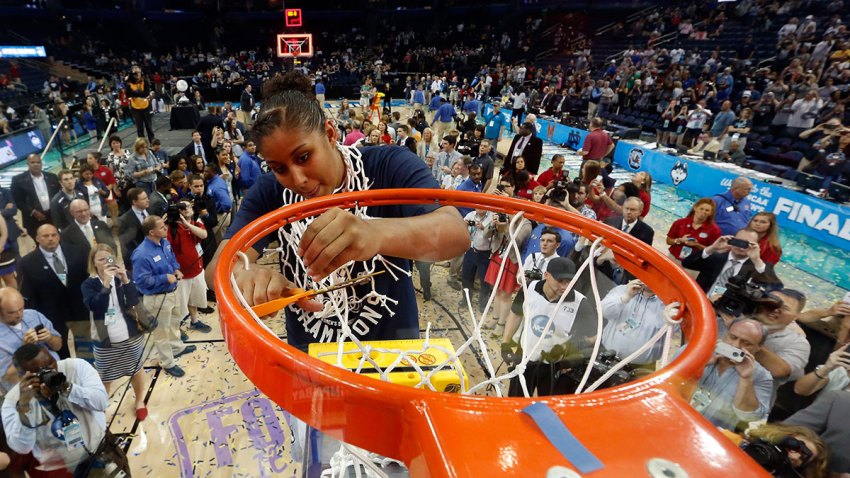 Last season, Kaleena Mosqueda-Lewis struggled with injuries and, occasionally, her shot. But as a senior, everything seemed to fall into place; she broke the NCAA record for career 3-pointers (breaking Diana Taurasi's old mark) and on Tuesday, she ended her college career with a national title, her third in as many seasons.

"Every senior who plays college basketball wants to win their last game in their career," UConn coach Geno Auriemma said, via the Hartford Courant. "I'm happy for K that she got a chance to do that and Kiah [Stokes] as well.

"And I'm glad the two buckets that K made down the stretch were kind of the difference in the game. That's the way she's supposed to go out. She made a big difference all year and throughout her career."

Ah yes, those buckets. In typical Mosqueda-Lewis fashion, she took a pass several feet behind the three-point line -- and in one swift motion, with the purest stroke in college basketball -- she drained the look. Swish.

It's something Huskies fans have become accustomed to seeing, those made 3s, spoiled even. But this time, Mosqueda-Lewis drained the 3 while UConn was holding onto a six-point lead with 5:29 left in the game. So she did what she always does.

"I knew Notre Dame was trying to make a run and they were down six and we needed to get some momentum going for ourselves," Mosqueda-Lewis told ESPN. "I wanted to step up and make those shots for my teammates "It has hit me," she said. "Seeing the alumni here and realizing I'm going to be a part of that, that I'm almost part of that group, is crazy."

Junior Breanna Stewart, who earned most outstanding player of the Final Four, knows that this team won't be the same without Mosqueda-Lewis.

"We're going to miss Kaleena a lot," Breanna Stewart said. "The fact that she's the best shooter in the country. But she has more to her game than just three-point shooting. It's her time to move on to the professional level ... she's going to have a lot of success there."

Mosqueda-Lewis added: "It meant a lot to be able to step up for my teammates and I definitely had in the back of my mind that I wanted to go out with a national championship. Being able to hold that trophy up at the end of the game and end my senior year the way I wanted to, the way any basketball player wants to, was amazing."