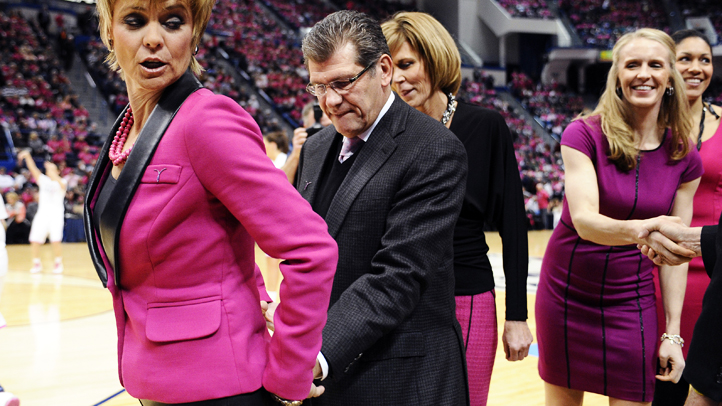 You've no doubt heard about the photograph of Huskies coach Geno Auriemma slapping the backside of Baylor coach Kim Mulkey before Tuesday's game. Well, here it is, courtesy of the Associated Press, along with some much-needed context, courtesy of Auriemma.

First, here's how's the AP explained the photo when it hit the wire: "Connecticut head coach Geno Auriemma, center, pats Baylor head coach Kim Mulkey on her backside before their NCAA college basketball game in Hartford, Conn., Monday, Feb. 18, 2013. (AP Photo/Jessica Hill)."

And here's Auriemma's in-depth analysis.

"She was staring at my butt and she was commenting on it and I said, 'Really? How about yours?' and she went, `Yeah, look at it,' and I went (slap), I'll teach you a lesson,'' Auriemma said, jokingly (according to the Connecticut News. `And then she started talking about how she only dated Italians her whole life and that she wanted me to set her up with some Italians and I said `The Italians I send to see you aren't going to date you.' We've had a long and great relationship since, gosh, she was an assistant at Louisiana Tech. It goes back a long ways.

"She's just a big pain in the butt. That's all there is to it.''

Mystery solved.