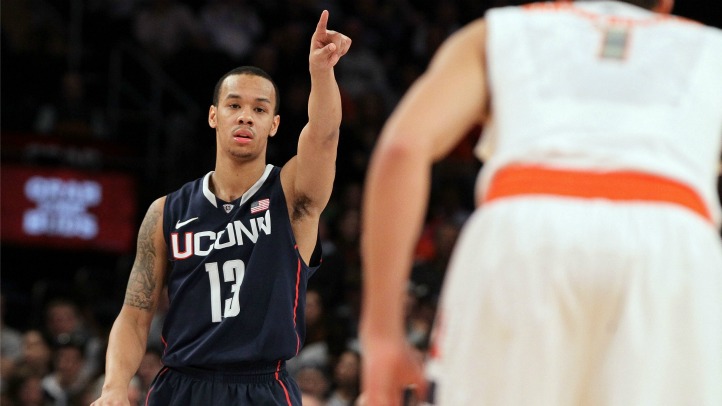 For the first time all season, the Huskies have dropped two games in a row. The latest, a 69-61 loss to Pittsburgh, leaves UConn at 12-5 and 2-3 in the Big East.

But we knew there would be bumps in the road this season; the Hall of Fame coach retired and the NCAA laid down the hammer with postseason sanctions. But as coach Kevin Ollie mentioned last week, despite the setbacks, there's no reason this team shouldn't be motivated.

"We're banned from the NCAA Tournament but we're never banned from heart," he said prior to the Louisville game. "We're never banned from having determination. We're never banned for excelling. We got a lot of things to play for, and we got the pride of UC on our chest. UConn is a special place and we're never banned from that. We're never banned from going out here and showing our family and our friends what we're made out of."

The more immediate issue, aside from the losing: the health of guard and team leader Shabazz Napier. He injured his should in last week's loss to the Cardinals and it wasn't clear he'd play Saturday. But he did, even if he wasn't close to 100 percent -- though Ollie would tell you differently.

"He was out on the court," the coach according to the Hartford Courant's Jeff Jacobs. "He was 100 percent."

But backcourt mate Ryan Boatright, who ended the evening with 20 points, knew otherwise.

"Shabazz's shoulder is hurt. As anyone could tell, he wasn't himself. We need to him get healthy as soon as possible."

Napier spoke about how the should felt leading to the game.

"We practiced (Friday) and I shot around a little," he said. "It wasn't that much of a problem. We went five on five and I was only slightly limited. Shooting wise I felt a hitch in my shoulder. I was told I was able to go so I went out and tried my best."

But clearly once the game started, Napier wasn't his usual self.

"I couldn't dribble with my left hand," he admitted. "I tried to get to the middle and drove with my left at the end of half time but it hit my arm resulting in a turnover. I'm usually able to fix that contact and get a shot up but I wasn't able to dribble with my left hand."

The good news: the Huskies are off till next Sunday, when they'll host Rutgers. Hopefully, Napier will be closer to normal by then.