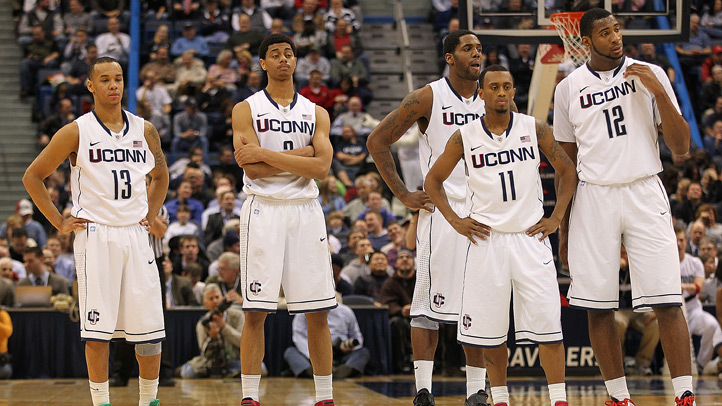 Early on it looked like more of the same. Villanova led 26-8 midway through the first half and the Huskies seemed uninterested in doing anything about it. Almost as if they had already accepted their fate as an NIT hopeful, unable to cope without their coach Jim Calhoun, and unwilling find a capable on-court leaders while they worked through this rough patch.

And then something happened. Andre Drummond took over the final minute before half, grabbing rebounds, making put-backs and creating turnovers, and UConn had tied the score at the break.

"We were just playing lousy offense, as I've said a number of times this season," associated coach George Blaney said of those first 10 minutes. "But the fast break helped us get some points; sometimes the way Villanova comes at you it's good to run at them."

The second half was much closer and an Alex Oriakhi layup with 23 seconds to go took the teams to overtime where the Huskies finally found someone to step up. Monday night that someone was sophomore guard Shabazz Napier, who drained a 3-pointer from some 30 feet away with one second on the clock to give UConn arguably their most important win of the season.

"Of course I thought it was going in," Napier said afterwards according to the Hartford Courant. "I don't take shots to miss."

Even from 10 feet beyond the 3-point line, apparently.

UConn, losers in seven of their last 10 games, finally have something positive to build on as they head into the final three games of the regular season.

"I just told them it was a great team win," Blaney said. "I was happy for them, the way they came together as a team."

And while the win is a nice change from the current stretch of inexplicable losses, it won't mean much if the Huskies don't continue to play like this.

"We have bigger things to worry about than [the frustrations in recent weeks]," said sophomore forward Roscoe Smith. "We have to worry about our season."

Things don't get any easier; the Huskies host Syracuse Saturday as part of ESPN's College Gameday. But who knows, maybe this is the tart of something special. It's not like we haven't seen this movie before.