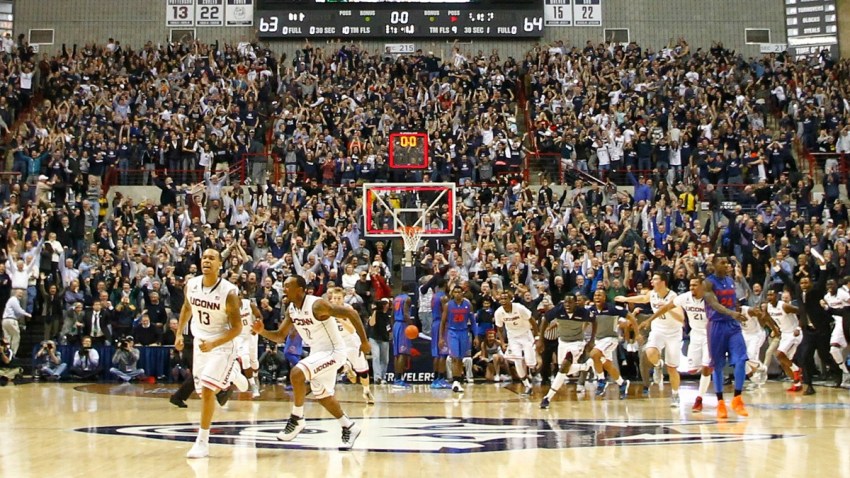 Shabazz Napier has been solid and often spectacular during his senior season, although this isn't a surprise to anyone who has followed his career, including the people responsible for handing out the awards recognizing individual accomplishments.

Last October, he was named to the Bob Cousy watch list, the annual honor that goes to the best collegiate point guard in the country. In January, he was one of 25 candidates for the Wooden Award, which recognizes the nation's best player, and earlier this month he found himself on the midseason watch list along with 29 other candidates for the Naismith Men's Player of the Year Award, which also goes to the nation's best player.

On Thursday, Napier added his name to another honor, this time, along with 14 other players, the 2014 Oscar Robertson National Player of the Year Trophy. The Roxbury native leads the Huskies in points (17.8), rebounds (5.8), assists (5.5) and steals (1.9), and he has earned American Athletic Conference Player of the Week honors four times this season.

More details via U.S. Basketball Writers Association press release.
His 19.7 points a game in conference play is second in the league behind Cincinnati's Sean Kilpatrick (21.7), who Napier and the Huskies face Saturday. The UConn guard has guided Connecticut to a 22-6 overall record, including two wins over the nationally-ranked Memphis Tigers and a victory against the current No. 1 Florida Gators, a contest in which Napier hit a game-winning shot at the buzzer.

Napier is the only Husky to ever amass both 1,500 points and 500 assists in his career and record two triple-doubles. His 230 steals are the second-most ever for a UConn player, while his 450 free throws are third all-time in program history.
The Huskies play again Saturday when they host Cincinnati at the XL Center. Tip-off is at noon.