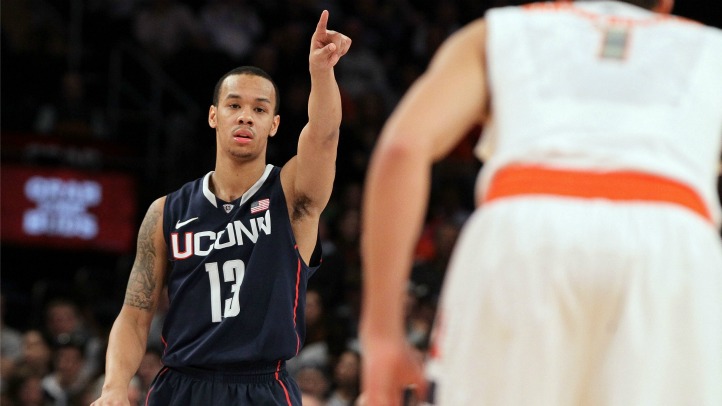 Last summer, Shabazz Napier, coming off an impressive freshman season at UConn, was the last cut for the World University Games roster. Some 10 months later and with a chance to represent Puerto Rico in the Olympics, Napier opted to return to Boston after feeling discomfort in his right foot, which bothered him at times in 2011-12.

ZagsBlog.com's Adam Zagoria wrote over the weekend that Napier was offered a spot on the national team but didn't want to jeopardize his junior season at UConn by possibly doing further damage this summer.

Puerto Rico coach Flor Melendez told UConn officials that Napier would've been a strong candidate to represent Puerto Rico in future events.

Unlike a year ago, when Napier was expected to make a big leap from sixth man to floor leader, this time the Huskies are just looking for some consistency. And that's not an indictment of Napier's play last season but a commentary on all that's happened to the program in recent months, from five players leaving by way of transfer or for the NBA, or the impending NCAA sanctions that will keep UConn out of tournament play in 2013.

That said, SI.com's Rob Dauster wrote last week that Napier was among the most disappointing college players in 2011-12.
Napier averaged 12.7 points and 5.8 assists for the Huskies this past season, putting together a number of quite impressive performances. But Napier was far too inconsistent, as his off-nights were as bad as it gets at this level, including a stretch where he missed 18 consecutive shots over the course of four games. That's not exactly what you are looking for out of the guy who was supposed to replace Kemba Walker's leadership, and it showed in UConn's record.
To be fair, Napier wasn't replacing Walker. Napier, Jeremy Lamb, Alex Oriakhi and Roscoe Smith were replacing Walker. And they couldn't do it. Going forward, Napier does need to be more consistent, especially since he's suddenly the elder statesmen on a young, inexperienced team that is squarely in the rebuilding process. And now that he's not playing competitively this summer, he should be healthy when practice begins in the fall.