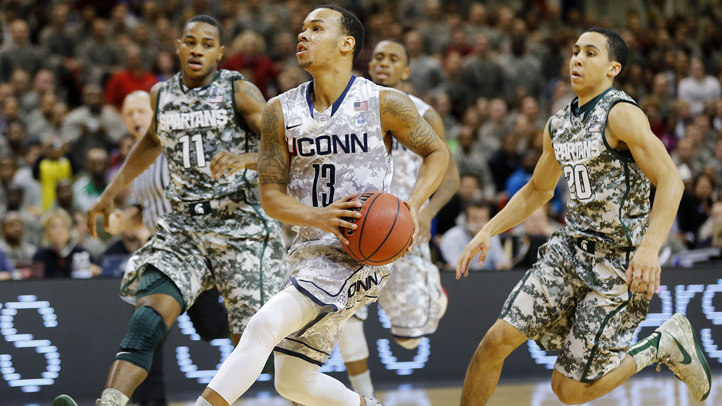 Junior guard and team leader Shabazz Napier has as much insight into Kevin Ollie's future at UConn as the rest of us. Which is to say, he's in the dark, too.

"We thought after the Michigan State game he was going to get the job," Napier said via the Hartford Courant's Dom Amore, "and sometimes it seems like it's not going to happen. We realize that it's not going to be in our hands, no matter what we do."

Napier's not alone. ESPN analyst Jay Bilas said pretty much the same thing while calling the UConn-Michigan St. game: UConn athletic director Warde Manuel should give Ollie a long term contract immediately.

It's a drum we've beaten as well, most recently last week.

Warde previously told the New York Times that "I think the world of Kevin. I love what I see. But I want to continue to watch him and watch the team. At the appropriate time, I'll make a decision."

To which we responded in a previous post:
The problem with that thinking: recruits don't want to hear that "I may or may not have my contract extended at some point in the foreseeable future" from a prospective college coach. Especially when the Rick Pitinos and Jim Boeheims of the world aren't going anywhere.

Not only that, but the university isn't exactly in a leveraged position. With all the upheaval going on in the Big East and beyond, the basketball program is one of UConn's few bargaining chips. If Manuel drags his feet, whose to say the Huskies would be able to land a high-profile coach anyway?
So what is the plan? Napier expanded on his previous remarks: "It seems like [Manuel] isn't going to make his decision based on what we do o n the court, but more on what we do off the court, how we conduct ourselves, what we do in the classroom. I think everybody's doing great academically."

Ollie, meanwhile, says that it's something he thinks about but mostly for practical reasons.

"I care about (it) because you'd like to have a contract," he said, "but I'm not losing sleep over it. … These kids are giving me their all. They're working and playing for me like I'm going to be here forever and I'm doing the same thing."