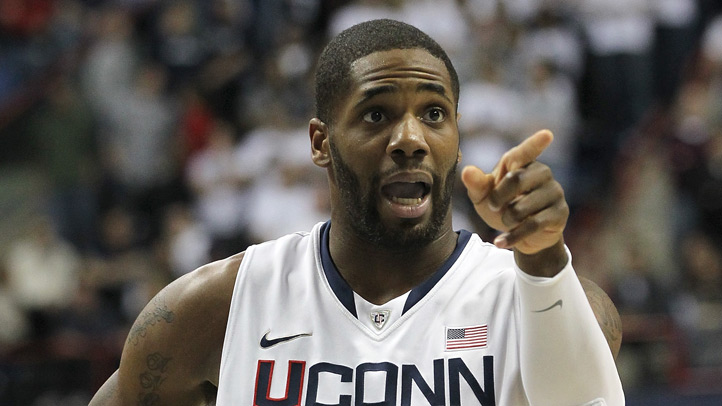 UConn fans have become quite familiar with the transfer rules in recent weeks, what with all the defections from players with college eligibility remaining. Alex Oriakhi will play for the Missouri Tigers next season, under transfer loopholes that waive sitting out a season because, in Oriakhi's case, his previous team is ineligible for postseason play in 2013 due to poor APR scores.

Michael Bradley, meanwhile, could also avoid sitting out a year after transferring to Western Kentucky because he's moving closer to his ailing grandmother, which is acceptable under current NCAA rules.

And then there's R.J. Evans, who's transferring into the Huskies' program from Holy Cross because UConn offers a graduate program that Holy Cross does not.

But according to ESPN.com's Andy Katz, sweeping changes to the transfer rules could simply boil down to this: if a player transfers, no matter the reason, they have to sit out one year. Details via Katz:

"The National Association of Basketball Coaches board of directors met with NCAA president Mark Emmert on Thursday in Indianapolis and, according to at least one source in the room, there is support to close up a few transfer loopholes," Katz wrote. "The coaches and Emmert discussed making any player who wants to transfer sit out a year, even if he or she has graduated and is seeking a waiver to play immediately at a school that has a graduate program that isn't available at the current school.

"The discussion also turned to the waiver that allows a player to play immediately if a relative is ill. That, too, would be closed. The consensus among the coaches is that if anyone transfers, he should sit out a year, even if that means a sixth year in college. The coaches also wanted some sort of universal language on transfer restrictions, maybe even an NCAA rule that forbids transferring within a conference. Conferences and schools create their own policies on restricting transfers. "

In a typical year, this wouldn't be news, but the past few months have been anything but typical for the Huskies. To close such loopholes could mean that, in the future, players would be discouraged from transferring because it would force them to sit out.