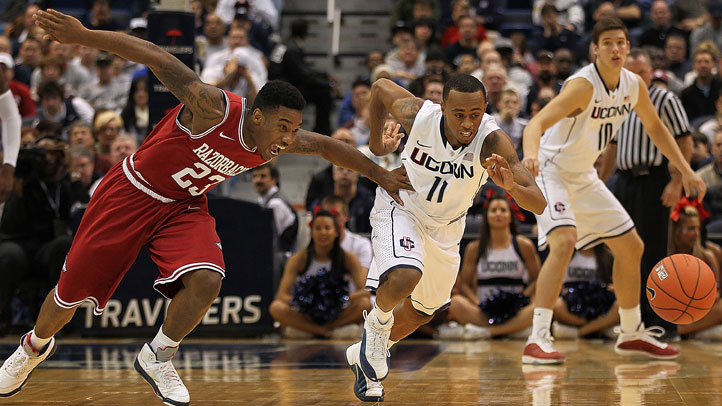 Another day and still no resolution on the Ryan Boatright front although speculation is that the NCAA could wrap up its latest review at any time.

A quick recap for those of you who may have missed the particulars of Boatright's situation: the freshman from Chicago missed the first six games of the season while the NCAA reviewed his eligibility. They concluded that Boatright had accepted improper benefits (specifically: Boatright's mother had accepted a plane ticket). The six games on the bench were considered punishment enough and Boatright was reinstated ... for 10 games.
Then another allegation arose -- reportedly from an ex-boyfriend of Boatright's mother -- and Boatright again found himself on the outside looking in while the NCAA conducted another review.

So here we are, in hurry-up-and-wait mode while the NCAA decides Boatright's future. In a story published Tuesday, The New York Times Joe Nocera writes that the NCAA has been "deeply disingenuous" about Boatright's case.

"Refusing to discuss the actions of its investigators, it essentially said that Connecticut, not the N.C.A.A., declared Boatright ineligible. That is technically true. Schools declare athletes ineligible because if they don't, the N.C.A.A. will deprive them of scholarships, force them to forfeit games and prevent them from playing in postseason games. Most astonishing, an N.C.A.A. spokeswoman told me that the organization does not have the legal authority to compel cooperation from parents. Again, technically true: Its real weapon — the threat of destroying their sons' careers — is far more potent than any mere subpoena."

More than that, Nocera wonders why exactly the NCAA's end game is.

"How can children be punished for the deeds of their parents — deeds that aren't even wrong in any basic legal sense? How can the N.C.A.A. blithely wreck careers without regard to due process or common fairness? How can it act so ruthlessly to enforce rules that are so petty? Why won't anybody stand up to these outrageous violations of American values and American justice?"

It's an important question, one the NCAA appears in no hurry to answer.

"The N.C.A.A. is like the Gestapo," wrote one parent in an e-mail to Nocera. "It's out there, we all fear it, and it is all-powerful and follows its own rules and makes them up as they go along. Who are they protecting? The same thing the Gestapo protected: themselves."

Meanwhile, Boatright is being punished for what?