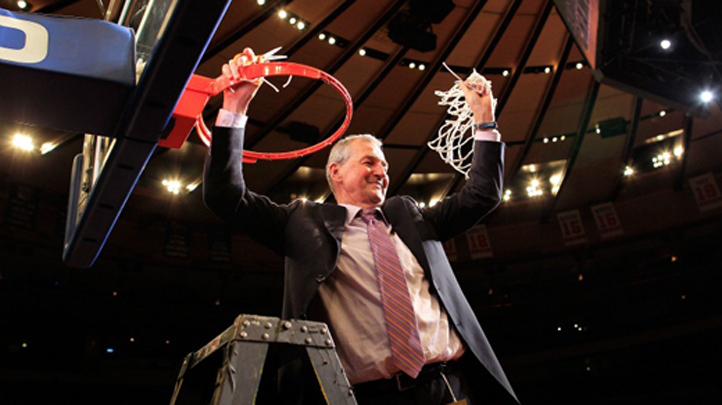 The men's 2012-13 team might not be eligible for the NCAA Tournament because of substandard Academic Progress Rates (APR), but the NCAA has recognized UConn as part of its March Madness celebration of 75 years of, well, March Madness.

Details via UConnHuskies.com:
UConn's 2003-04 NCAA champions, led by Emeka Okafor and Ben Gordon, was named among the All-Time March Madness Teams, while Richard Hamilton, the Most Outstanding Player in the 1999 NCAA Tournament, Okafor, the MOP in 2004, and Kemba Walker, the MOP in 2011 as UConn won its third national title, were named among the All-Time March Madness Players.

UConn was a part of four of the All-Time Madness Moments: Tate's George's last-second shot that beat Clemson in the 1990 East Regional semifinals; the last-second shot by Duke's Christian Laettner that nipped UConn in the 1990 East Regional championship game; Hamilton's buzzer-beater that upended Washington in the 1998 East Regional semifinals; and George Mason's upset of UConn to advance to the 2006 Final Four.
"Over the 75 years, the basketball championship has grown from a small eight-team tournament to one of the world's most popular sporting events," said Dan Gavitt, NCAA vice president of men's basketball championships. "To honor the growth of our sport, we are celebrating past players, teams and moments that have helped turn March Madness into one of the year's most anticipated sporting events. We invite all NCAA basketball fans --- both new and loyal --- to take a stroll down memory lane. And of course, we encourage friendly debate among fans around all their favorites."

The great irony, of course, is that the Huskies won't be participating this time around, although university president Susan Herbst is hoping UConn will be able to take part in the Big East Tournament.