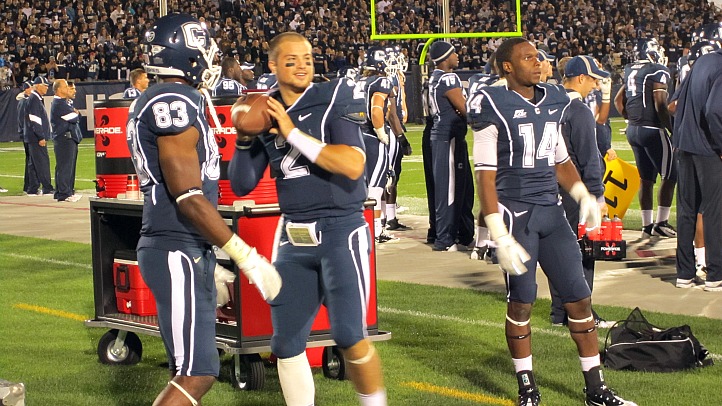 Sophomore quarterback Michael Nebrich announced last week he would transfer after just one year at UConn and weeks before the start of 2012 season. While the move was unexpected it's not completely surprising. Coach Paul Pasqualoni announced that Chandler Whitmer would be the Huskies' starter, and there was plenty of competition behind him among four players: Johnny McEntee, Scott McCummings, Nebrich and freshman Casey Cochran.

Nebrich told the Hartford Courant that his decision had little to do with "playing-time prospects" adding "In my heart I just felt it was the right time to go, the right move for me, so I just think personally it's the right decision for me. I feel like it's the right time to step away and try something new."

With the "when" decided, the question became "where." As in: where will Nebrich continue his football career?

"I don't know, Nebrich said Thursday. "I just got released this morning so I'll head home tomorrow, talk to my high school head coach and we'll see where things will end up but right now I don't know what road I'm going to take. I'm not set on anything. I'm open to anything, any school but for me the most important factor in this decision will be going someplace where I'm going to be happy doing what I'm doing – doesn't matter what level it's at."

According to a report in the Republican American, "someplace" appears to be Fordham. More via the RA: "Joe Moorhead, the former UConn quarterbacks coach and offensive coordinator under Randy Edsall who was the point man in Nebrich's recruitment, is in his first year as head coach at Fordham."

A year ago, the Rams were 1-10 (0-6 in the Patriot League). In August, they entered training camp with the same questions that faced the Huskies: who's the quarterback. Pasqualoni decided quickly on Whitmer and prior to Nebrich's announcement, Fordham had two players vying for the job: senior Ryan Higgins and sophomore Peter Maetzold.

What this means for Nebrich's chances (if he does end up at Fordham) remains to be seen but the simple math is this: it's a lot easier to earn playing time when competing against two other players instead of four.