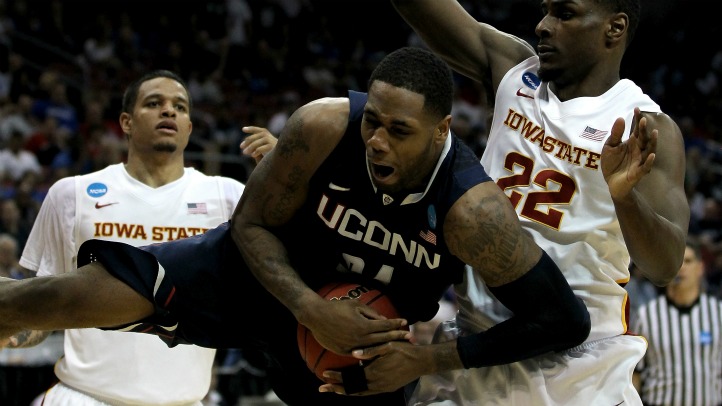 When Nerlens Noel, the country's best high school player, announced Wednesday night that he was headed to Kentucky, it seemed to signify that UConn transfer Alex Oriakhi might be inclined to play elsewhere next season. Because the Huskies are ineligible for the postseason in 2013, Oriakhi can play immediately, and the 6-9 forward has been heavily recruited since announcing he was leaving UConn late last month.

Kentucky coach John Calipari met with Oriakhi last week but didn't promise him anything other than a chance to compete.

"He would like for me to come in and lead right away and I definitely feel he was honest," Oriakhi told SNY.tv according to the ZagsBlog.com. " He did present Kentucky very well. He talked about how the basketball players have a high GPA so he values education with his players. I think it really went well. … He just told me he has two players returning. . . . He has nobody." With plenty of other suitors -- Washington, Xavier, Missouri, UNC and Duke among them -- conventional wisdom would have Oriakhi marking Kentucky off his list now that Noel, a 6-10 scoring machine, will play for the Wildcats.

Instead, Noel sent out the following tweet Wednesday after his nationally televised announcement: "#BBN we needa get @aoriakhi34 to join !! Show him love !! #WeAreUK."

Which prompted this observation (via Twitter, naturally) from CBSSports.com's Jeff Goodman: "Somewhat surprisingly, Alex Oriakhi told CBSSports that he still plans to visit Kentucky next weekend after Nerlens Noel's commitment."

Oriakhi is reportedly looking for a program that can get him 30 minutes per game but that seems unrealistic. More likely: he'll join a team that gives him the best chance to win a national title, something he accomplished with the Huskies in 2010-11. And as it stands, Kentucky makes a lot of sense.