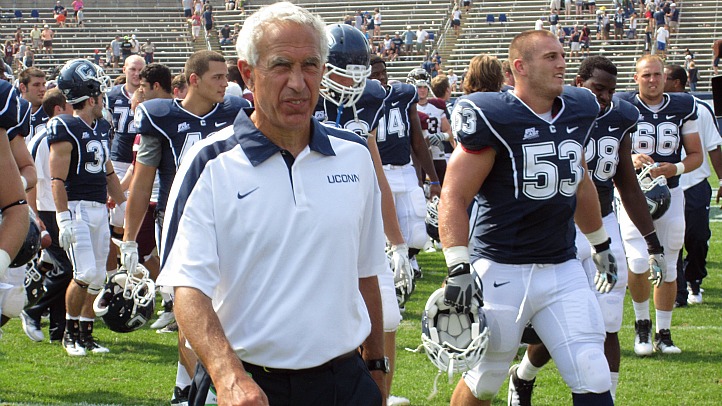 Fortunes can change quickly in college football. Tipped balls and lucky bounces can lead to momentary fixes -- an unexpected first down or touchdown or even a win. But over the long haul, as we have mentioned several times in regards to the Huskies football team, recruiting is the life blood of any program. Hit on a few recruits at the right time and a weakness can become a strength almost overnight.

That brings us to UConn's wide receivers. The group lacked depth and experience a year ago and now, with a year under their belts in a new system and with the addition of Clemson transfer Bryce McNeal, things are suddenly looking up.

"As you know, competition breeds the best situations," receivers coach Matt Cersosimo told the Hartford Courant's Desmond Conner over the weekend. "Now we've really spring-boarded ourselves into winter workouts and into fall camp with the competition at the position."

The Huskies assistant sounded genuinely thrilled about the Huskies' current players.

"We're very excited. You've got kids that gained experience whether in a starting role as Nick Williams or in a back-up role as Tebucky [Jones Jr.], Kamal [Abrams] and Geremy [Davis], but now you add in Mike Smith [academically ineligible in 2011], who was a starter for us, you add [Boston College transfer] Shakim [Phillips], who has played and started at this level … now you're adding a little more experience in terms of playing at the highest level. Yeah, it creates a lot of excitement heading into the winter workouts."

In addition to Kashif and Isaiah Moore, who the Huskies will lose to graduation, Conner writes that three wideouts will transfer: Leon Kinnard, Gerrard Sheppard and Malik Generett. Still, this will be Cersosimo's most talented group of pass-catchers in his seven seasons in Storrs.

Nothing on my end will change," he said. "I'm still going to come to work and coach these kids the same exact way I coached them since I got here. … I don't think because you add Mike or Shakim that I have to go and change my approach. I have my way about how I do things, coaching and teaching these young men on a daily basis. That won't change at all."

Receivers are only half the equation. The other half, of course, are the quarterbacks. And the Huskies suddenly have depth there, too. In addition to Johnny McEntee, last year's starter, and Scott McCummings and Michael Nebrich, who both played to varying degrees, UConn welcomes freshman Casey Cochran and juco transfer Chandler Whitmer. The former is the Connecticut Gatorade Player of the Year and the latter threw for more than 3,000 yards and 25 touchdowns at Butler Community College last season.

So, yes, Paul Pasqualoni's first season with the Huskies wasn't particularly noteworthy but things are looking up for 2011-12. And that's all you can ask of a program that's trying to build consistency from one season to the next.