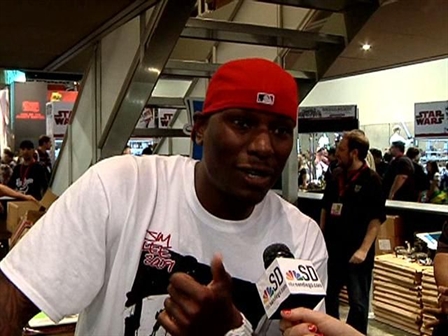 There hasn't been much to celebrate with UConn's offense this season but first-year coach Bob Diaco knew that would be the case. The situation was made worse when Casey Cochran retired from football after suffering a Week 1 concussion, leaving just two quarterbacks -- Chandler Whitmer and Timmy Boyle -- on the roster.

The program also parted ways with running back Lyle McCombs, a former freshman All-American, but it appears another freshman, Arkeel Newsome, could be on the precipice of something special. In Saturday's loss to Temple, Newsome hauled in a Whitmer pass and took it 74 yards to pay dirt, the longest touchdown for the Huskies since Shakim Phillips had a 75-yard TD reception last season against Maryland. Newsome finished the afternoon with 107 yards of total offense.

But since true freshman apparently aren't made available to the media (as the New Haven Register's Jim Fuller found out, we have no way of knowing just how Newsome feels about all this. But Fuller did talk to some of Newsome's teammates.

"That was definitely cool,"senior receiver Deshon Foxx said. "I was very happy that he was able to get the touchdown especially as a freshman to show what he could do. He got into the open field, he made a couple people miss and he was in the end zone quick. That is another weapon we have.

"He doesn't complain, he doesn't say anything he just whatever you tell him to do he does to the best of his ability. I am proud of him and happy to have him on our team."

And redshirt freshman tailback Josh Marriner added this about both Newsome and the other true freshman running back, Ron Johnson.

"They are progressing well, they kind of got thrown into this with the running back only have two (returning players) so it is great to have them on the team, great for them to step up to the challenge and do what they need to do so it has been a great asset," he said.