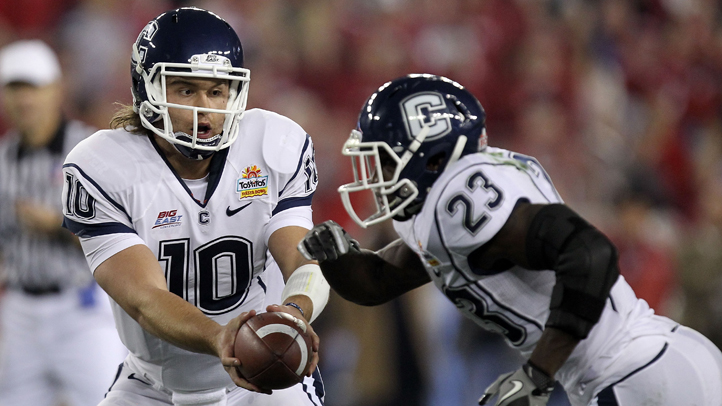 For now, there's not much for recently drafted NFL players to do other than workout and wait. And the situation is even worse for the undrafted looking to latch on with a team prior to training camp. The NFL owners and current players are currently in the midst of a labor dispute with no end in sight.

Which must be driving former UConn running back Jordan Todman crazy. Thought to be no worse than a third-round selection in last month's NFL Draft, Todman lasted until the sixth round when the Chargers finally called his name. In fact, he wasn't even the first player taken out of UConn; that distinction went to fullback Anthony Sherman who was drafted by the Cardinals in the fifth round.

Todman and his agent were understandably baffled by the draft-weekend free fall, figuring that the slide may have had to do with concerns over Todman's durability.

"It's not like he was playing Division I-AA or he's playing in a conference where there weren't good defenses," agent Brian Murphy said earlier this month. "He went up against some great defenses, including the bowl game. I think people tried to paint him as a smaller back, but the reality is when he got to the combine and you looked at him …he's a pretty strong guy and he had a lot of carries."

During an ESPN.com chat Wednesday, Scouts Inc.'s Matt Williamson was asked about how Todman would fit in with the Chargers:
Q: How do you like Todman out of UConn to replace Sproles in SD? I love that he never fumbles and looks like a steal in the 6th round. Kinda like when the Chargers got Sproles late in the 4th

Matt Williamson: Would much rather have Sproles though. Todman is a more straight line runner than Sproles. And runs higher with less leverage and power. Also not nearly the receiver or returner. Still, you had to expect a drop off there.
That would be Darren Sproles, the Chargers' 5-6, 190-pound, all-everything back who is also a dangerous return man. But he's currently not under contract and might want more than San Diego is willing to offer him.

And while Williamson is right -- Sproles is currently better than Todman -- it goes beyond talent. The NFL salary cap means every roster spot is about the talent-per-dollar-allocated trade-off. Sproles may want more than what the Chargers are willing to pay for a third-down specialist, especially when the new rules on kickoffs lessens the importance of a great returner.

Which means that if Todman can provide 50 to 75 percent of Sproles' output for what would be a fraction of the cost then it's a deft move. As for what that would mean in terms of on-field production, Sproles rushed for 267 yards on 50 carries last season, and caught 59 passes for 520 yards. The former is certainly attainable, although the latter is a long shot. Todman managed just 42 receptions for 283 yards in his three-year college career.

But again, it's all about trade-offs. And when the labor dispute is eventually settled, Todman will get a chance to prove his worth.