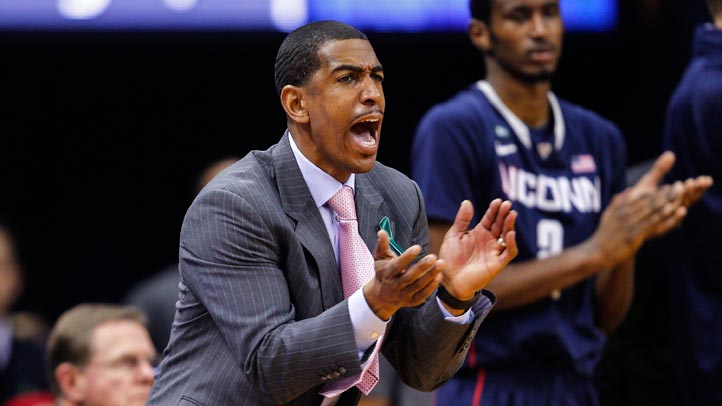 If college basketball games were 20 minutes, the Huskies would have been one of the best teams in the country on Monday night. But games are 40 minutes. Which meant, that despite a stellar first half that saw UConn lead top-ranked Louisville by as many as nine points, the second half revealed the true strengths and weaknesses of both teams.

After the break, Cardinals outscored the Huskies 45-24 with a combination of tenacious pressure defense and a relentless attack-the-basket offense. By the time it was over, Louisville cruised to a 73-58 victory thanks in large part to their backcourt tandem of Peyton Siva and Russ Smith.

"It was a game of runs," coach Kevin Ollie said after the game. "They came out in second half -- I don't know what (Louisville coach Rick) Pitino said to them, but he must have said something. They played very, very hard in the second half. They took it to us. They shot 60 percent in the second half. There were a lot of layups. We didn't get back on defense. We didn't play with the force that we were playing with in the first half, with the intensity we were playing with on the defensive end. They did a really good job. Pitino is a great coach. He had them come out and play like Louisville is supposed to play. They pressed us, we gave up the basketball -- we had 10 turnovers in the second half. We didn't handle their pressure."

Ollie's right -- it was a tale of two halves. In the first five minutes of the game, Siva, the Big East preseason player of the year, picked up two fouls and didn't see the court again until after the break. That was big. So was UConn's red-hot shooting -- they shot 56 percent from behind the arc in the first half. But the Huskies looked like a completely different team over those final 20 minutes.

"I think in the first half we came out with a game plan; we kind of executed it well," guard Shabazz Napier said. "In the second half, we got away from it. I think Louisville played us much better in the second half. We weren't able to get to the middle of the zone where we were creating our offense most of the time. We gave up the lead and they just ran with it.

But these are the growing pains young teams go through. In the end, this experience will make the Huskies better.

"We're going to get better," Ollie said. "I want to praise Louisville, they came out with a great effort. But our guys didn't respond when they came out and had that run."

There's no time to feel sorry for themselves (not that Ollie would let them even if they wanted to); UConn, now 12-4 and 2-2 in the Big East, faces Pitt this Saturday.