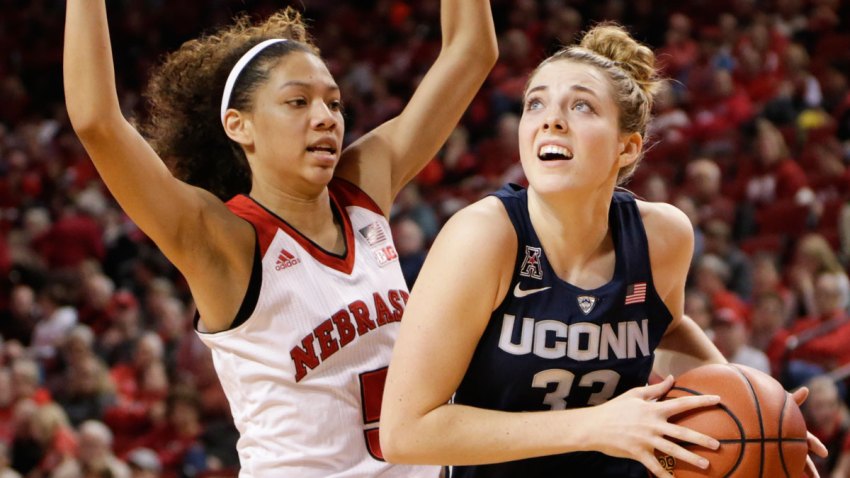 Katie Lou Samuelson scored 23 points and Kia Nurse added 20 to help No. 1 UConn rout Nebraska 84-41 on Wednesday night for the Huskies' 86th consecutive victory.
The streak is the second longest in NCAA women's basketball history behind the 90 straight UConn won from 2008-11.
The Huskies (11-0) were never challenged by Nebraska (4-8), which hit just one of its first 10 shots against the stout Huskie defense. UConn jumped out to a 7-0 lead on Samuelson's 3-pointer 2 ½ minutes into the game, went up 10 on Kia Nurse's jumper with 3:26 left in the first quarter and led 22-7 at the end of the first period.
UConn's largest lead was 48 at 78-30 early in the fourth period.
Napheesa Collier had 14 points and 15 rebounds while Gabby Williams had 10 points and nine boards for the Huskies.
Hannah Whitish led Nebraska with nine points.
BIG PICTURE
UConn: UConn has now won 29 consecutive road games, dating to an overtime loss to Stanford in Nov. 2014. The Huskies have won 99 straight road games against unranked opponents, dating to a loss at Arizona State in Dec. 2004.
Nebraska: The Huskers are playing what is likely the toughest schedule in school history. Nebraska has now lost to three undefeated teams, UConn, No. 23 Virginia Tech and California. Nebraska's strength of schedule was No. 27 nationally before Wednesday's game.
UP NEXT
UConn: travels to No. 4 Maryland on Dec. 29 for what could be their toughest game left on the schedule
Nebraska: hosts Northwestern on Dec. 28.
Copyright AP - Associated Press