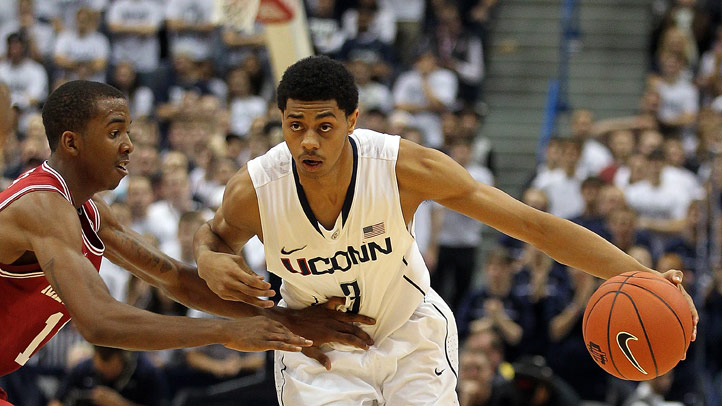 Beginning Thursday, the Huskies have three games over two weeks before the Big East schedule (and Jim Calhoun's three-game suspension) begins. A quick glance at the upcoming opponents -- Harvard, Holy Cross and Fairfield -- and you get the sense that this will be UConn's last chance to fine tune things before conference play officially begins.

Except that Harvard, who the Huskies face Thursday, shouldn't be mistaken for a bunch of eggheaded cream puffs. In fact, they just won the Battle 4 Atlantis holiday tournament, which included UConn, and for the first time in school history the basketball team has cracked the top-25. When the teams get together at Gampel, it will be No. 9 UConn vs. No. 24 Harvard.

"It's an exciting week for Harvard basketball," point guard Brandyn Curry told the Hartford Courant's Dom Amore on Monday. "It's great to do something that's new, that's never been done here."

More via Amore:
The Crimson beat Princeton on March 5 to clinch a tie but came up a tad short, losing the rematch in the one-game playoff in New Haven. Princeton went to the NCAA Tournament. Harvard, after playing in the NIT, has continued to build its relevance on the court and enthusiasm on campus. …

Coming into this season, Harvard was 258 games under .500 in 100 seasons of men's basketball; its only NCAA appearance was in 1946. This week provides an opportunity to prove itself on the national stage.
"That's our reward," coach Tommy Amaker said. "… We get to play a great UConn team."

That would be the same Tommy Amaker who was a part of those great Duke teams back in the mid-1980s. After serving as an assistant under Mike Krzyzewski for a decade, Amaker was a head coach at Seton Hall, Michigan, and in 2007 he joined Harvard. Last season, the Crimson won the Ivy League season.

"We had a vision," Amaker said. "There is greatness all across this campus, great departments, great people. We thought we could become part of that, and put out a product that could perhaps connect all of it, and we asked ourselves the question, 'Why not?'"

Harvard's biggest test of the season will come against the Huskies. It's hard to envision UConn losing that game, but nobody thought the Crimson would win the Battle 4 Atlantis, either. Or, perhaps more fitting: who had the Huskies winning the Big East Tournament a year ago, let alone their third NCAA title?