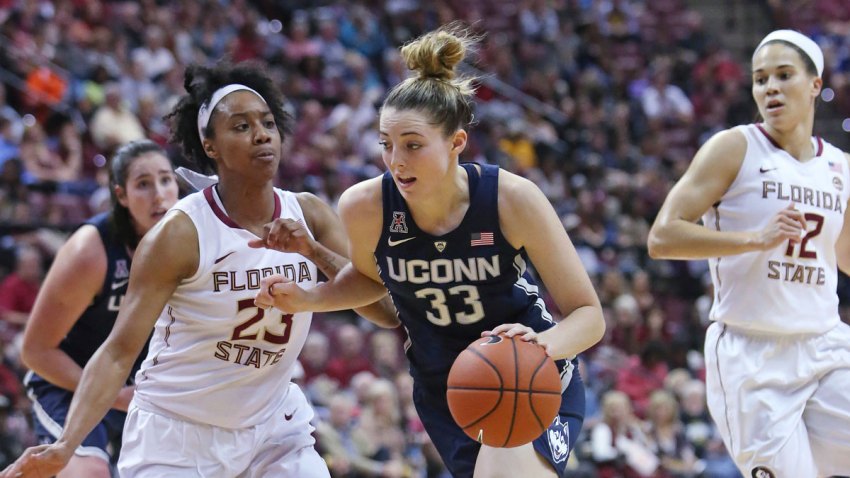 UConn's winning streak remains alive, just barely.
Napheesa Collier scored 28 points and had a big block down in the final few seconds to lead the third-ranked Huskies to a 78-76 win over No. 12 Florida State on Monday night. UConn extended its winning streak to 76 games, the third longest streak in college basketball history.
Florida State had a chance to beat the third-ranked Huskies at the end, but Imani Wright's 3-pointer was short allowing the four-time defending national champions to hold on in their opener.
"There are a lot of happy coaches that watched tonight's game saying you got out of there with that one but your time is coming," coach Geno Auriemma said.
This is the Huskies' first single-digit win in the regular season since a six-point victory over St. John's in 2013. It is also the first time since the 2011 Sweet 16 against Georgetown (68-63) that they have won by five points or less.
The Seminoles trailed 65-59, but had a chance to tie it with 13.7 seconds left when Brittany Brown was fouled on a 3-point attempt by Kia Nurse. She made the first two to get within 77-76, but missed the third. The Huskies could not secure the ball and FSU (1-1) retained possession when it went out of bounds.
Shakayla Thomas then drove the lane, but her shot was blocked Collier. Crystal Dangerfield made the first free throw, but missed the second. Imani Wright missed a 3-pointer at the buzzer.
"I think this kind of woke us up and showed us that we are a different team than last year. We can't just win on talent. We have to play good, fundamental basketball," said Collier, who also had eight rebounds.
Saniya Chong scored 16 points and Katie Lou Samuelson added 14 for the Huskies, whose winning streak sits only behind the team record of 90 straight set from 2008-10 and the UCLA men's record of 88 consecutive victories.
Wright led Florida State with 25 points while Brown added 16 points and 10 rebounds.
"I wish we were sitting here obviously on the other side of this having won it," Florida State coach Sue Semrau said. "We gave ourselves a chance. We got the ball into two great scorers at the end. There's no moral victory here. The victory is our growth as our basketball team."
BIG PICTURE
UConn: Auriemma said before the game that this was a new world they were entering after the graduations of Breanna Stewart, Morgan Tuck and Moriah Jefferson. He also said he wasn't going to judge this team based on what happened in November, but considering they were able to hold on to win at the road, that has to give his team a little bit of confidence.
Florida State: The Seminoles hung tough without starting point guard Leticia Romero, who missed her second straight game with a hamstring injury.
TURNING POINT
The Huskies trailed by four at halftime and then were down 37-30 with 9:08 remaining in the third quarter, which is the largest deficit they have faced during the winning streak. They then went on a 14-2 run to take a five-point lead. The Seminoles would tie it three more times in the second half but could never take the lead.
Collier and Chong each scored four points during the run while Samuelson had a 3-pointer at the end.
"It was a miracle we were down four at halftime. They (Florida State) got everything they wanted in the first half. If we were down 14 that might have been the end," Auriemma said.
STAT OF THE NIGHT
Florida State had 16 offensive rebounds but could rarely convert as it was 26 of 72 from the field. That translated to UConn having a 30-24 edge in points in the paint and 12-7 advantage in second-chance points.
POLL IMPLICATIONS
UConn's tough week will continue with second-ranked Baylor up next on Thursday and another road game Sunday against LSU. Florida State might drop a spot or two from 12th, but proved it can stand with the best teams in the country.
UP NEXT
UConn: The Huskies will have their home opener on Thursday against No. 2 Baylor. UConn is 53-10 against teams in the top 10 since the start of 2008-09 season.
Florida State: The Seminoles continue a string of four straight home games to start the season on Thursday against Jacksonville.
Copyright AP - Associated Press