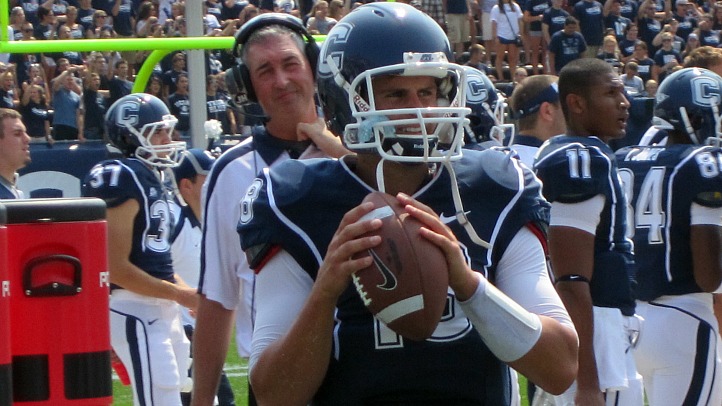 Okay, the offense didn't magically become a non-stop scoring machine during UConn's 17-3 win over Buffalo Saturday night, but is that a surprise? We're now four games into the 2011 season and the Huskies' best offense (especially when the running game isn't working) is usually their defense. The Bulls certainly weren't Vanderbilt or Iowa State, but they were a good road test for UConn, and when you're struggling to find your identity, no such challenge is too small or insignificant.

So it was nice to see the Huskies rebound from a 3-0 deficit, and they did it without relying solely on their defense. Quarterback Johnny McEntee, after two less-than-stellar outings, finally showed glimpses of being able to manage the offense. And Nick Williams, one of the best return men in the the Big East a year ago who had gotten off to a slow start in 2011, made two big plays on offense to seal the UConn win.

Williams hooked up with McEntee twice for 113 yards, the first a second-quarter reception that was good for 64 yards and set up a McEntee four-yard touchdown strike to Mark Hinkley. The other came in the fourth quarter and was good for 49 yards and six points. The stuff in between wasn't particularly pretty but as the old coaching cliche goes, "Style points don't matter."

Williams had no trouble putting the game in perspective. "No matter how ugly it is," he said according to the Hartford Courant, "it's hard to get wins at this level. It definitely feels good."

The Courant's Jeff Jacobs adds that both of Williams' catches demonstrated his "ability to slip tackles, dodge bigger bodies and, with due respect to singer Randy Newman, give short people a reason to live. Williams is charitably listed at 5 feet 10, but on this night he played a full foot taller."

And maybe this will be the kick-start to a season that, to date, had been pretty pedestrian.

"There are some guys who have play-deceiving play speed," Pasqualoni said. "Nick plays fast. There are guys you time in the 40-yard dash and they're not blazers. But you get them on the field and put the ball in their hands and they run fast. Boy, he looked fast when he had that ball and was running up the middle of the field and changed direction and started to head to the right pylon."

And, yeah, Williams may be on the short side, but that's not necessarily a bad thing. Jacobs asked him if he patterned his game after the Patriots' Wes Welker (who, by the way, caught 16 passes for 217 yards and three touchdowns Sunday).

"You hit it right on the head," Williams said. "Basically, if you're under 5-10, I'm rooting for you."

Now somebody just needs to ask McEntee if he patterns his game after Tom Brady.