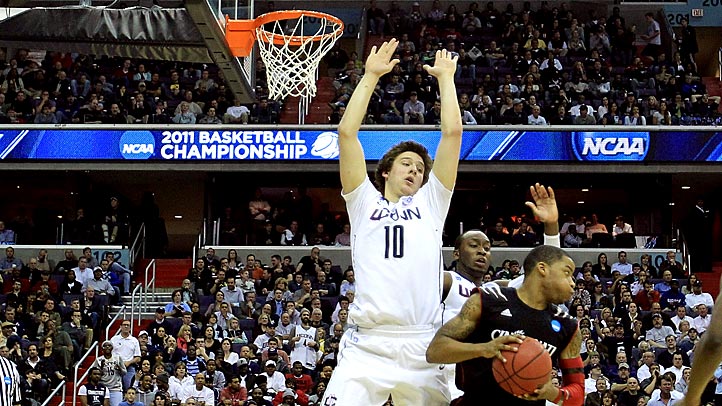 After a rough offseason that included two arrests, Tyler Olander has rejoined the Huskies' basketball team and is looking forward to his senior season.

"It was pretty difficult," he said, via the Hartford Courant of the off-court issues that led to a suspension from the team. "Basketball is all I've known here for the past four years, and it gets taken away. It served a purpose. I realize what I had to do. The things I had done were selfish and if I really want to be a part of this, and I do, then I have to change."

Coach Kevin Ollie, who has supported Olander through the ordeal, keeps close tabs on his big man.

"I check every appointment he has," Ollie said, "every class he has. I'm [not worried about] the energy he has here. If he's not showing the energy off the court, then he's got a problem with me. His time here at UConn is expiring, there's a date on it, he knows that. Hopefully he can use that time to become a better young man and then also have a great senior season. That's going to make us a better team."

Now, Olander, who was a freshman when the team made its improbable run to a national title, gives the huskies depth in a front court that includes all-star-in-the-making DeAndre Daniels, sophomore Phil Nolan, and freshmen Amida Brimah and Kentan Facey.

"[Rebounding] is one of the keys," Ollie said of the frontcourt. "It's definitely a point of emphasis. We have a team that's very athletic, very versatile. If we can get out on the fastbreak, we can do a lot of damage. The first thing is defensive rebounding, building a wall and boxing out and hitting first. They know, if they rebound they'll play. I put that nugget out there and we'll see who grabs it."

Olander, meanwhile, is just happy to be back playing basketball.

"Being away from the team, missing the mandatory workouts, the first couple of practices," he said, "and a bunch of other things that were more team-oriented, it put things into perspective. I can't be missing things, because of selfish things that can be avoided."