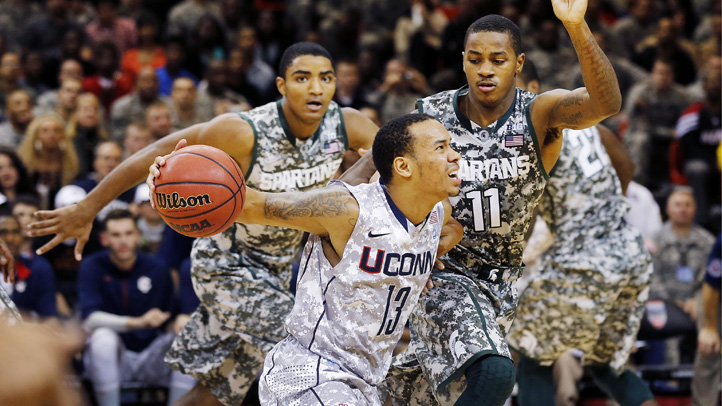 Kevin Ollie has one of the toughest coaching jobs in the country. Maybe that's overstating it a bit but he came into a difficult situation -- replacing Hall of Famer Jim Calhoun -- made even more so by the realization that the Huskies wouldn't be playing in the 2013 NCAA Tournament because of low APR scores. The upheaval in the conference, as well as Ollie's job uncertainty (until he signed a long-term deal on New Year's Eve) didn't help recruiting, either.

Through it all, Ollie's led UConn to an 11-3 record (1-1 in the Big East), and his team appears to be turning the corner on its biggest on-court obstacle: rebounding. The Huskies out-rebounded DePaul by 20 in Tuesday night's 99-78 victory and much of the credit goes to the head coach -- at least to hear the players tell it.

"(Ollie) created some new lessons for us," said guard Shabazz Napier (via the Hartford Courant, who was responsible for eight rebounds against the Blue Demons. "New things we had to do in practice. He did something [last week], we were all just looking at each other and saying, 'oh, gosh, what is this?' "

The Courant's Dom Amore explains:
The new drill was dubbed the chamber drill by Kevin Freeman, the director of basketball administration, an undersized-but-feisty rebounder during his playing days. It was meant to force players to box out, or, rather, to make the necessary moves and contact that leads to proper boxing out.

Each player would come down from center court and move first to one wing, hit a manager holding a pad, and then to the center to simulate defensive help. Then he'd have to dart to the other wing and hit another manager's pad. Finally, he'd have to move back to the middle and, as a coach put up a shot, fight a scout team member for a live rebound. "Send 'em back in the chamber," Freeman would yell.
"We have to get three boxouts at one time," Napier explained, "and if we weren't able to get three, we'd have to run as a team. The first four or five guys couldn't get the boxout and we had to keep running and running."

This is where it pays to have coaches who are great at, well, coaching; it's one thing to roll the ball out for five All-Americans and tell them to get after it. It's something else entirely when the team is young and inexperienced.

"We don't have frontcourt players with the athleticism that maybe we have had in the past, who can just turn and jump and play above the rim," said associate head coach Glen Miller. "So you have to condition guys to play more physical, to hit their man first. And that takes time."

If the Huskies can become a better rebounding team there's no reason to think they can't make some noise in the conference this year. We'll find out soon enough -- UConn's next three games are against Notre Dame, Louisville and Pitt.