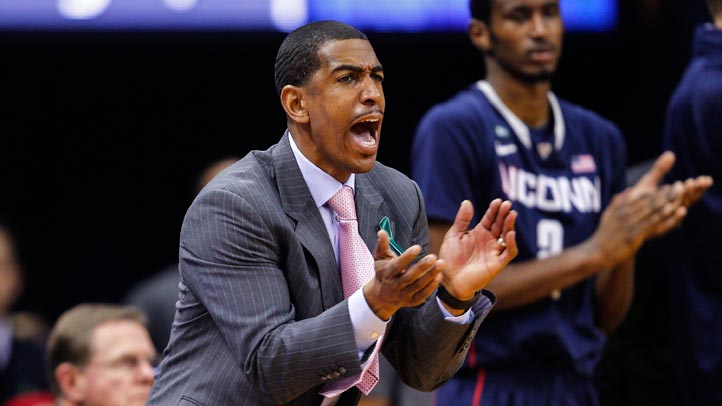 With just four games remaining on the schedule, the Huskies really are coming down the home stretch of the 2013-13 season. There will be no tournament for this team, a fact established nearly a year ago before four players would leave the program and Kevin Ollie would replace Hall of Fame coach Jim Calhoun.

But 87 percent of the way through Ollie's first year on the job and no one -- perhaps not even Ollie -- would have pegged UConn for this much success. Fresh off an 81-69 win over DePaul, the Huskies are now 19-7 and 9-5 in the Big East. They've done it without Alex Oriakhi and Roscoe Smith, who transferred to other schools, and Andre Drummond and Jeremy Lamb, who are now earning a living in the NBA.

Put differently: Ollie had Shabazz Napier's experience and had to rely on everyone else's youthful exuberance to get to this point. It's pretty remarkable, really, especially given how underwhelming the team performed a year ago with a stacked roster and high expectations. Ollie has been so impressive, in fact, that he should receive some consideration for Big East coach of the year.

"They better think about Kevin Ollie as a potential coach of the year in the Big East," ESPN analyst Dick Vitale tweeted last week (via the Hartford Courant). "He has done a terrific job under a tough situation."

A win over Georgetown Wednesday would go a long way in cemented the honor for Ollie, who is (by our estimation, anyway) in the running against the Hoyas' John Thompson III.

"The last two weeks would determine the most deserving," said the Connecticut Sun's Kara Lawson (via the Courant), who also serves as an analyst on Big East telecasts. "A lot can change. Georgetown and Marquette are front-runners for the league title, which always holds a lot of weight.

"Georgetown losing (forward Greg) Whittington at the beginning of the (Big East) schedule makes their run even more impressive. Both UConn and Villanova need strong finishes to bolster the candidacies of their coaches. Ollie has done a very good job with this group, but I can't say at this juncture that the job he has done is markedly better than those other three.

"He has the added challenge of no postseason looming out there. That might give him an advantage in motivating the team down the stretch."

Whether Ollie is officially recognized for what he's accomplished probably doesn't mean much to him. If we've learned anything from watching him over these last few months it's that winning's the best reward.