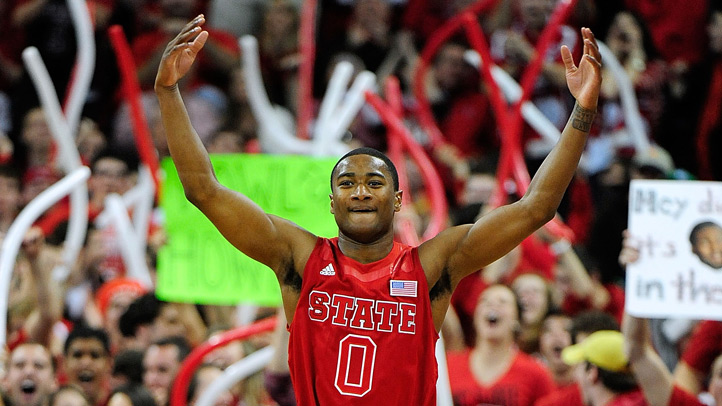 When Rodney Purvis announced earlier this month that he was transferring from NC State after just one season, the initial reaction was shock. That was quickly replaced with curiosity since a year ago during the recruiting process Purvis considered UConn his second choice behind the Wolfpack.

Curiosity turned to certainty when Purvis made the announcement that the Huskies would be his next team and now all that's left to do is wait; per NCAA rules Purvis will have to sit out a season before competing on Kevin Ollie's squad. Last week Ollie, who has three recruits coming to Storrs for the Class of 2013, spoke about what the addition of Purvis could mean.

"It definitely makes us feel good that he chose UConn to further his career in our program," Ollie said via the Hartford Courant. "With all the different things we went through last year, people transferring out of here, [that] they're coming to us means we're doing something good. People are still gravitating toward us and our program. [Purvis] is going to have a great time, I really believe that."

It's a good point; Alex Oriahki and Roscoe Smith transferred last spring, leaving the Huskies with little experience outside of Shabazz Napier. Now, with the NCAA sanctions in the rearview, UConn is poised to regain it's place among the nation's best programs. And part of that includes Purvis, who left NC State because he didn't see eye to eye with coach Mark Gottfried, something Ollie was asked about.

"I have no concerns, no issues," the coach said. "It's a change for him, a new lease on life for him and his basketball career. I don't know what happened with their staff. I have nothing but great things to say about Mark Gottfried — he recruited me for UCLA, so I know what type of man he is. ... Sometimes, it just doesn't work out, it's just not the right choice at that time. I told Rodney, it's not to destroy his dream, it's just delayed. Hopefully he comes in rejuvenated, hopefully he likes the style of play we incorporate and can flourish on the basketball court. Our staff is going to make him work, we're going to challenge him in every area of his life."