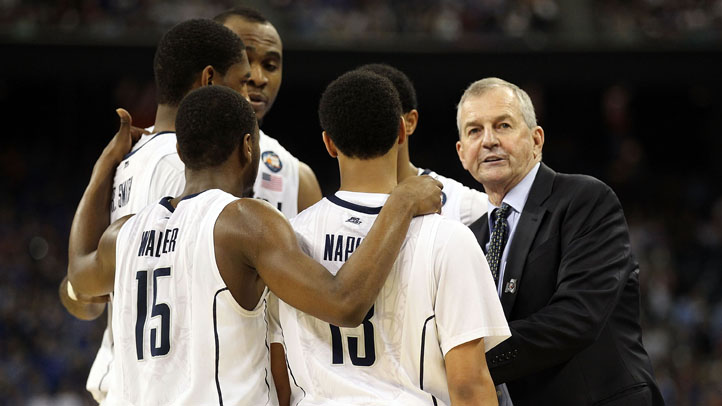 The UConn men's basketball team might have just one commitment for its 2012 class -- Omar Calhoun -- but the 6-5 shooting guard is one of the top 100 high school players in the country.

It explains his presence at the aptly named National Basketball Players Association Top 100 High School Camp, which runs from Wednesday through Saturday at the University of Virginia's John Paul Jones Arena.

According to the New Haven Register's David Borges, the camp will feature 18 of the top 20 ranked high school players in the nation, and helps prepare them for the transition from high school to college, both on and off the court. ("There are seminars on everything from how to dress to sex education. We kid you not," Borges writes.)

In addition to Calhoun, some other familiar names will be in attendance: Andre Drummond (class of 2012*), Mitch McGary ('12) and Nerlens Noel ('13). If Drummond sounds familiar it's because in April, weeks after the national title triumph over Butler, we wrote that the Huskies were front runners to land Drummond, universally considered the best player in the 2012 class. Except that there's still a slim chance he graduates early and is eligible to play in 2011 (hence the "*" above).

Drummond's camp said two months ago that he wasn't graduating early, and according to a recent report from ESPN.com's Andy Katz, that hasn't changed. Whatever. This much we know: When Drummond gets his diploma he will be highly sought after.

Details via Katz:
A number of NBA sources told ESPN.com that they think Drummond will find a way into the 2012 draft by going to Connecticut next season. But the Drummond camp has not let it be known that he will graduate early in order to arrive in Storrs in the fall. The Huskies are recruiting Drummond (as are a number of top schools) for 2011 and 2012.

If Drummond were to suddenly find a way to go to school this upcoming fall, the Huskies would have to make a scholarship available. UConn is limited to 10 scholarships due to its Academic Progress Report penalty. However, that would be a problem the Huskies would love to have if it meant having Drummond on campus in the fall.
On one hand, Katz is right; not having enough scholarships for 2010 is a good problem to have. On the other hand, if the men's team had just average APR numbers they would have 12 scholarships instead of 10.
As it stands, Jim Calhoun and his staff have done a masterful job of recruiting around the NCAA sanctions. And the team he has assembled heading into the 2011 season is as good as any in the Big East.