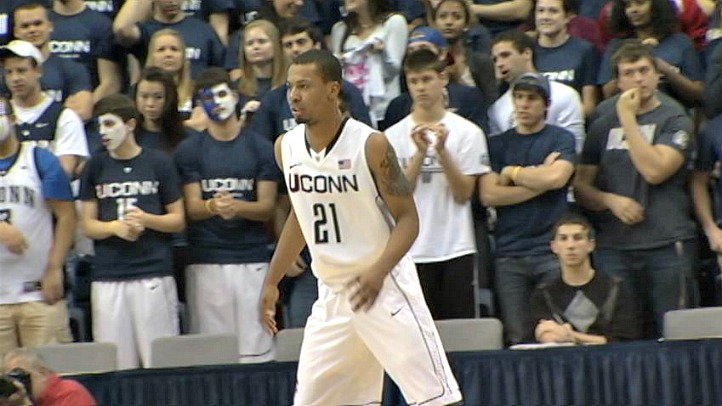 By any measure, Omar Calhoun exceeded expectations as a freshman. The Huskies headed into the 2012-13 season with plenty of questions in the wake of an NCAA ban from the postseason, the departure of five players, and Jim Calhoun's retirement. The Huskies, thanks in part to Calhoun's contributions, ended up winning 20 games.

By the time it was over, Calhoun played in 29 games and averaged 11 points, 3.9 rebounds and 1.3 assists while shooting 40 percent from the field and 32 percent from behind the arc. But a promising rookie campaign was derailed late in the year by a sprained wrist and a hip injury, the latter requiring offseason surgery.

For now, Calhoun remains on the sidelines, rehabbing for the moment when doctors give him the green light to return to the court.

"I'm looking to show everyone who the real Omar is," Calhoun told the Hartford Courant recently.

Calhoun appears to be on schedule, which means he should be able to resume full workouts in late August and official team practices in October.

"Last year, I couldn't move all the way, the way I wanted to offensively or defensively," Calhoun said. "I couldn't make moves the way I wanted to, exploding to the rim. Couldn't get my body right all the time so I could make those moves, finish and explode or the rim, so it stopped me at certain points.

"Now, it's gone. I don't feel anything at all. Little movements I can tell, when I have a basketball in my hand it's going to be lot better, I'm definitely more mobile and flexible after the surgery. We'll see how that translates on the court."

In the interim, Ollie is giving Calhoun the support he needs.

"Coach Ollie has spent a lot of time talking," Calhoun said. "He knows I'm coming through surgery and he says he's going to stick by my side and help me get through it. He wants my mental approach to be, 'don't take anything for granted. When I get back out here its time to go to work.' … I'm preparing myself mentally for when I've got my body back, and then I can add the physical part."

And when Calhoun returns, he'll join an accomplished backcourt that includes Shabazz Napier and Ryan Boatright. And while questions still remain up front, this team will go as far as these three players take them.