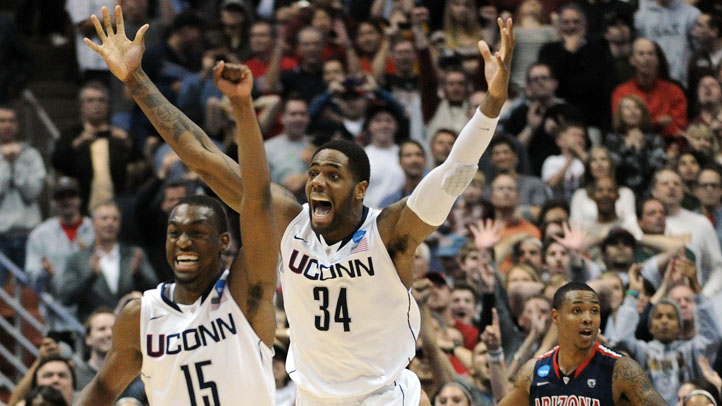 After their improbable national championship run in April, there was a stretch of bad news for the UConn men's basketball team: the NCAA sanctions for recruiting violations and poor academic performance, Jamal Coombs-McDaniels' arrest and subsequent transfer, losing top recruiter Andre LaFleur to Providence, and, of course, the uncertainty surrounding Jim Calhoun's future in Storrs.

But it's a new week and things are looking up. First, DeAndre Daniels, one of the best players in the country, committed to UConn for the upcoming season. And Wednesday, the school announced that center Alex Oriakhi has been invited to the World University games.

It doesn't carry the cachet of landing a new recruit, but any opportunity for a young group to get better never hurts.

Details via the press release:
Alex Oriakhi (Lowell, Mass.) will be part of a group of 22 players that the USA Basketball Men's Junior National Team Committee has selected to attend the 2011 USA Basketball Men's World University Games Team training camp. …

"After a lot of thought and consideration of potential players, the committee has put together a very strong roster for the USA Men's World University Games Team training camp," said Boeheim, who chairs the USA Basketball Men's Junior National Team Committee. "As always, the committee will be looking for not only the most talented players, but also players that will work well as a team."
Purdue's Matt Painter has been named the head coach, and Cuonzo Martin of the University of Tennessee and Brad Stevens of Butler University were named assistants.

Last month, rising sophomore Jeremy Lamb earned an Under-19 US National Team tryout, which starts next week.

Looking ahead to the 2011-12 season, Calhoun said Wednesday that Oriakhi and point guard Shabazz Napier have been named co-captains, and that the coach expects all eight players to be back in the fall so the roster is now set.
When asked about next year's team, Calhoun said that in addition to Kemba Walker, "We'll miss Charles [Okwandu]. Charles had a dramatic impact on the outcome of games. But I told the kids that was that team. This is your team."

Sure doesn't sound like a guy set to retire.