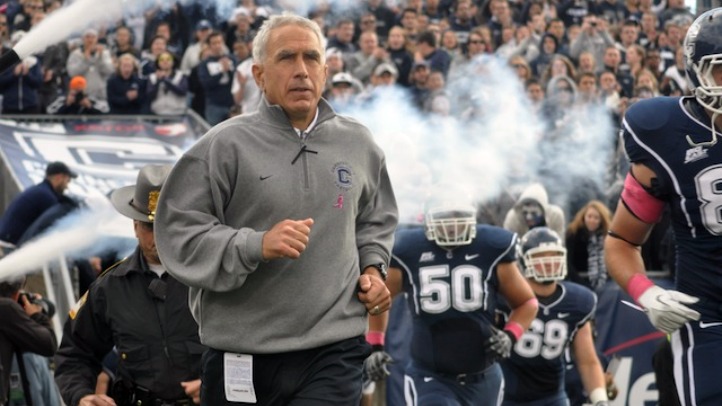 Backup quarterback Scott McCummings returned to camp last Tuesday after missing more than a week due to personal reasons. And while August is typically the time reserved for fleshing out the depth chart and preparing for the season, it's also one last opportunity for those undecided about their football-playing future to come to some resolution.

Sophomore quarterback Michael Nebrich decided to transfer -- which is what QB Michael Box did exactly 12 months before. Next to leave the program: junior safety Gilbert St. Louis, who told coach Paul Pasqualoni of his intentions recently.

"I don't know exactly where he is going but I am going to grant him a release to probably any school we don't play in the next two years" Pasqualoni said according to the New Haven Register's Jim Fuller. "I wouldn't release somebody to go to another I-A program if we were going to play them. He just feels like he wants to go and have a chance to start."

St. Louis was likely buried on the depth chart behind Ty-Meer Brown and Byron Jones. Pasqualoni, meanwhile, hinted that freshmen Andrew Adams, Wilbert Lee and junior David Kenney would see more snaps as a consequence of St. Louis' departure.

In other personnel news, backup fullback Mike Osiecki returned to the team after taking several days off some to return home.

"I had some personal things I had to deal with," Osiecki said. "Coach Pasqualoni was really good and he was there for me. I just took care of it as quick as I could and came back. I've always wanted to be here so it kind of hurt me thinking about leaving and being home but I wanted to come back as soon as I was back home.

"I feel a lot better. I had to take care of some stuff but I am all good now. It was actually really hard (missing time). I really wanted to come back. I just realize how much I love football and I love the grind. I love it. I have been picking it up day by day."

The Huskies open the season at Rentschler Field on August 30 against UMass.