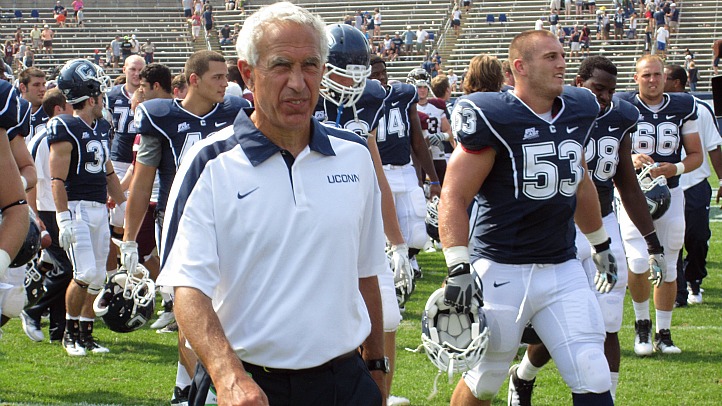 For many teams that won at least six times in the past three months, their season continues. For others, like the Huskies (who are coming off back-to-back 5-7 efforts), the offseason has officially begun, which means that the players' only refuge is the weight room while coaches try to figure what went wrong between recruiting trips. As a program, it's not something you want to get accustomed to. Partly because football is a competitive endeavor but also because sustained mediocrity will get you fired.

So the self-scouting has begun in an effort for the Huskies to better themselves in 2013.

"In the past two years we have been in a lot of close games," said coach Paul Pasqualoni, who is 10-14 since taking over in 2011. "There were a few games where a touchdown or less decided the game, and we had a few of those games this year. A little thing here, a turnover here, a field position there, a missed kick here; so my outlook on it is that you are out there every game to play. It is always hard (with tough losses) to accept them. I always feel like we should have won that game, and I think the kids on the team feel that way too.

"We feel good about it. With one recruiting class, I think it takes more than that. You go back on the season just like you go back on last season, what caused you to lose is a bunch of little things. We have been in a lot of close games, but we haven't won the games that as a coach you would like to win."

Put differently: if you're happy with the scheme but not the execution, get better players. This isn't an indictment of the current roster -- in fact, we're not convinced George DeLeone's offense is the right fit for this team -- but more the realization that recruiting is the life blood of any program. And that holds for UConn more than other school; if they want to be taken seriously by the bigger conferences looking for members, the football program has to become more competitive.

"You get into the recruiting which we are into right now," Pasqualoni said. "We will be out on the road next week. I think from the football standpoint, just from the nature of this is the contact portion of recruiting season, we will step back for just a few days to get back on top."

There's plenty to sort out, of course. Not just in the coming weeks and months, but looking ahead to next season. Because it's fair to assume that Pasqualoni might not make it through another 5-7 season.