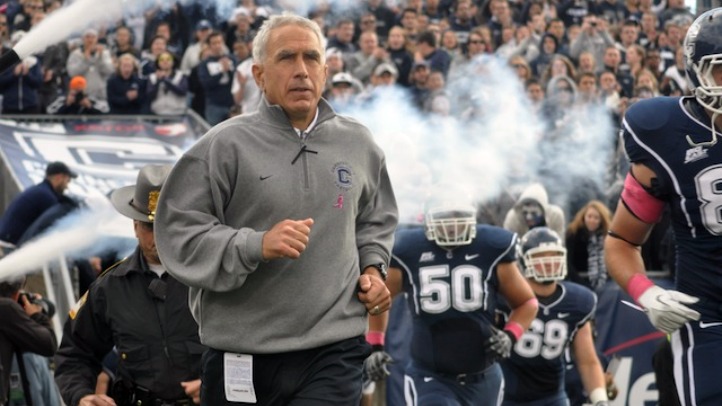 If Paul Pasqualoni didn't have enough to worry about (and he did), now he has to deal with the aftermath of an October snowstorm that hit the area over the weekend and left much of the state in the dark.

Add in the Huskies' inconsistent play and that their next opponent, Syracuse, unceremoniously dumped Pasqualoni in 2004 after he helped resurrect the program. So, yes, there's a lot going on.

Due to widespread power outages resulting from the storm, the National Guard has been called into duty, and just like September in the wake of the damage leveled by the remnants of Hurricane Irene, Rentschler Field is their home base. But unlike two months ago, the start time of the UConn game will be unaffected. Mike Enright, associate athletic director for communications at UConn, confirmed as much Tuesday before the school's weekly media briefing.

The day before, Pasqualoni was asked about facing his old team, where he coached for 15 years.

"My focus and attention and energy is on getting the UConn Huskies ready to play," he said. "Anything other than that would be a distraction for me and this team. Our outlook on this is that it's a tough Big East Conference opponent.

"I left there, I don't know how many years ago now? Seven years? Seven years is a long time in the football business. There have been a lot of games in between my last one there and this one. Really, no other feelings than let's get ready to play a good Big East Conference team."

Which is exactly what he's supposed to say. There were similar storylines when Bill Belichick bolted the Jets for the Patriots, spurning the man he once worked for, Bill Parcells, in the process. When Belichick and Parcells faced off years later, there were the obvious questions about their pasts. An emotionless Belichick said it was just another game, but you sensed he took special pleasure in beating the guy he once called boss.

While the names have changed since Pasqualoni left Syracuse, he no doubt has extra motivation to stick it to the university that fired him. Maybe he hasn't said anything directly to his players or assistants, but he's human. It's not unreasonable to think that in a game that's all about competition, the head coach's competitive spirit might provide extra incentive.

And given the Huskies' record, they'll take all help they can get.