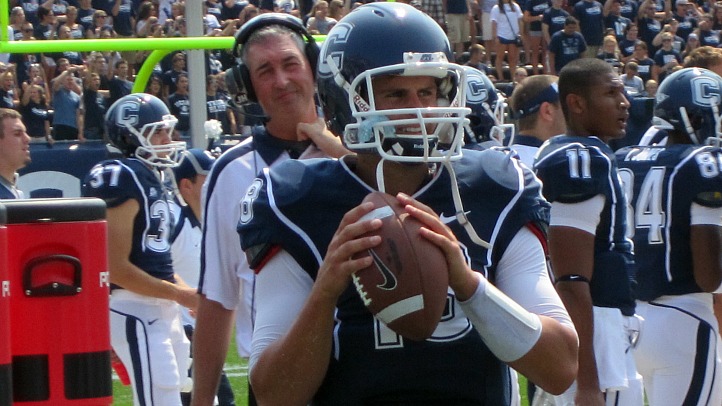 We've spent plenty of time on the Huskies' quarterback situation, especially all those months before coach Paul Pasqualoni named Chandler Whitmer the starter for 2012. Which basically means we'd talk about Johnny McEntee's inexperience and how it contributed to an inconsistent passing game last season. Sometimes it's easy to get caught up in the results and forget that there's a series of events that get you to that point.

On Thursday morning while speaking at the Middlesex County Chamber of Commerce Breakfast, Pasqualoni gave us a glimpse behind the curtain. The takeaway: the reality we see from the comforts of our living rooms doesn't always match the reality the coaches and players are living on the field. Remember last season's Vanderbilt game -- the one the Huskies had wrapped up only to lose on a late McEntee pick-six? Pasqualoni explained Thursday exactly what happened (via the Hartford Courant's Desmond Conner):
You know, the problem we had early on is that we didn't have a lot of experience in the fourth quarter. The Vanderbilt game [Week 2, a 24-21 loss in Nashville], third-and-7, we lost it on an interception return for a touchdown. That was not Johnny McEntee's fault that was my fault. We were going to run it, kick it and play defense and win the game and then we had one of those TV timeouts. All of a sudden 'Coach, there's a TV timeout.'

"So then I have an extra minute to think…

"So I brought Johnny over and I said 'Johnny we're gonna run this … route. In the second quarter he hit it for a first down. We got seven to go and it's going to go right to the sticks, you throw it, we're going to make this first down, we're gonna run the clock out and we're gonna get out of here with a win. Well, they bluffed the coverage. They fooled him. He threw it. It got picked. It went back for six. Johnny was just crushed. I tried to tell him after the game, 'John it wasn't you. I promise you. It wasn't you. It was that stupid TV timeout'."
It's an important lesson for all of us not privy to the conversations between players and coaches. When you're looking for someone to blame it's not always who you think.