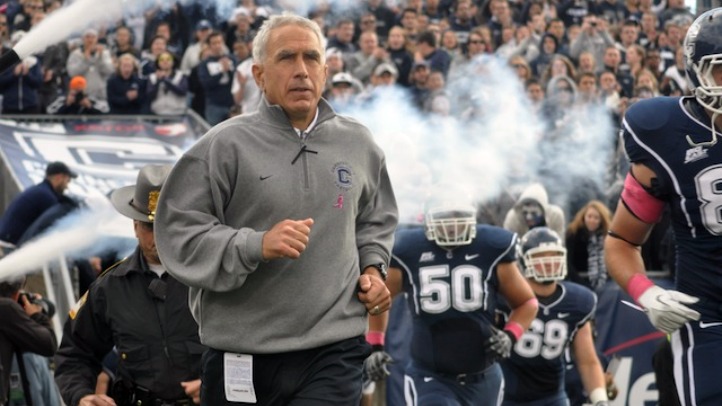 We've talked often about how the 2013 season will ultimately decide Paul Pasqualoni's future in Storrs. He's had back-to-back 5-7 campaigns, which, by any measure, is unacceptable. UConn had -- on paper, anyway -- another strong recruiting class, but the job now for Pasqualoni and his staff is to translate that into on-field results.

Ironically, despite the lack of success in the standings, former Huskies have fared well in the NFL. And this year should be no different: Trevardo Williams, Blidi Wreh-Wilson, Dwayne Gratz and Sio Moore are all in Indianapolis at the NFL Combine this week with the sole purpose of impressing 32 teams ahead of April's draft. And to a man, they all agree that Pasqualoni has prepared them for this moment.

"I remember when coach Pasqualoni first came in, the first meeting I had with him, he told me he was going to teach me how to use my hands, how I wouldn't be anything without using my hands," Moore told the Hartford Courant's Desmond Conner. "Because of coach Pasqualoni, that is something I'll take with me, and it's so strong for me in my game. Without strong hands and playing with leverage, you won't win. It won't matter how big or small you are. You could be the biggest [player] in the world, but if you don't know to play with your hands and body posture, you're going to get beat.

"You know, he held us accountable in college as if we were in the NFL. The way you became great is only if you wanted to become great. That was something I took from him. What he's doing and what he's done, a lot of people don't really understand or see, unless you're there. ... He's honed in the little things that make you a great player."

Williams added: "You can't be a one-man team. He always emphasized working as a team."

And for cornerbacks Gratz and Wreh-Wilson, no detail was too small when it came to preparation.

"Doing (things) right, whether it be watching extra film, doing the right things on the field, knowing what the receiver is going to do coming off the ball, even knowing what the lineman is going to do, which can really help you, you know, just becoming a student of the game," Gratz said.

And Wreh-Wilson added: "One of the reasons I took the captain thing so seriously is because I knew coach Pasqualoni knew exactly what he was talking about."

And two months for now, all that hard work will pay off when all four of these players hear their names called during the NFL Draft.