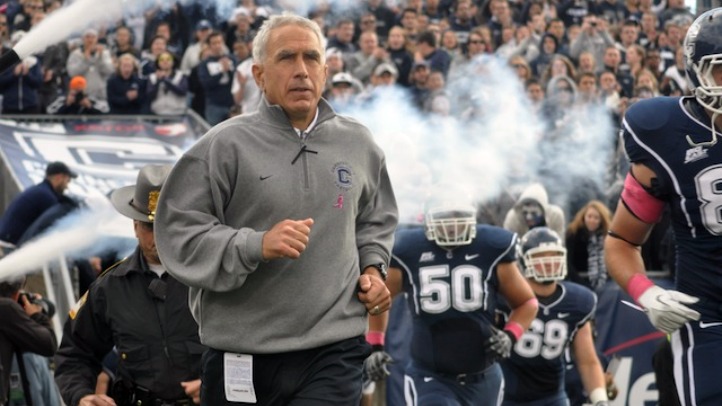 Remember on Monday, when we wrote that safety Gilbert St. Louis was leaving the program? Turns out, he's had a change of heart. Coach Paul Pasqualoni welcomed him back to the team.

We mention this as an example of a larger phenomenon: Pasqualoni might be in a hurry to turn around the Huskies (they went 5-7 in his inaugural season) but, in general, he's not impulsive. In fact, just the opposite as evidenced by the St. Louis situation. SNY.tv's John Silver addressed this issue in a recent post, noting that one of the big concerns when Pasqualoni was hired was that he was in his 60s, hadn't been involved in the college game for a few years and would probably struggle to communicate to young players. Turns out that couldn't be farther from the truth.

"I want to mention this," Silver wrote Tuesday, "because on Monday, safety Gilbert St. Louis returned to the team after telling Pasqualoni he wanted to transfer. Pasqualoni has allowed St. Louis to rejoin the team. This comes on the heels of allowing Mike Osiecki to return to the team after several days away. Osiecki was having some personal issues with football, and Pasqualoni gave him the room to make a clear-headed decision. Add in allowing Scott McCummings' personal issues to keep him away — excused absence with no threat to his job security as the Wildcat QB — and also allowing Michael Nebrich to transfer smoothly, it would seem to me that Pasqualoni has had a delicate touch at managing players thus far."

This can't be understated. A coach can be the greatest in-game tactician and if he can't relate to his players, especially kids in their late teens and early 20s, he doesn't stand a chance to be successful. (One caveat: coaches at the highest levels of college football can be despots because they have some of the best athletes on the planet and that athleticism can overcome any shortcomings in communication. Pasqualoni has no such worries.)

This isn't to suggest that Pasqualoni's players walk all over him, either. As Silver notes, Pasqualoni kicked Jerome Junior off the team earlier this year and has also suspended players who ran afoul of team rules.

More from Silver: "What I've observed publicly is the coaching staff is able to let these players breathe when they need to, and push and demand when they need to. Osiecki and St. Louis both left camp, and have returned. I am not sure that happens at every school."

Frankly, it probably doesn't happen at a lot of other places. It's a credit to Pasqualoni that he's exceedingly patient with his players who, if they're anything like we were at that age, are still figuring out who they are -- not just as it relates to football but as it relates to life.