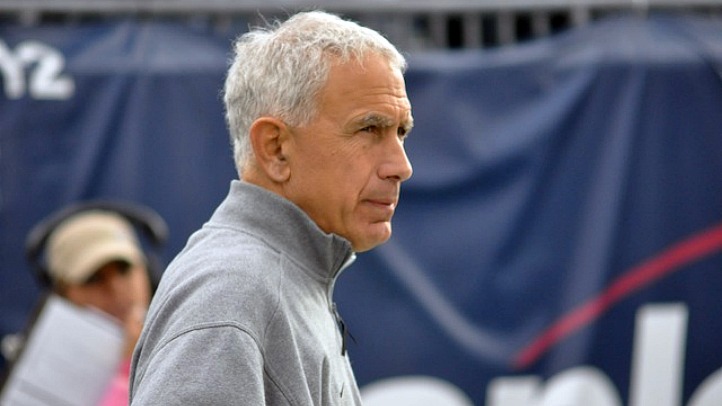 We say it all the time: recruiting is the lifeblood of any program. That's certainly true of the perennial top 20 programs, but just as relevant to the mid-tier outfits that are looking for consistency and ultimately, respect in the form of bowl appearances.

After an improbable run through the Big East in 2010, the Huskies found themselves in the Fiesta Bowl. In the two-plus-years since, Randy Edsall left for Maryland and his replacement, Paul Pasqualoni, has had back-to-back 5-7 seasons. Naturally, there are some concerns about the direction of the program -- especially with the Big East giving way to the American Athletic Conference. Part of the solution involved replacing defensive coordinator George DeLeone with TJ Weist.

But the other part involves finding players who can, well, play. And through mid-May, there's not much to report on the recruiting front. Actually, that's an overstatement: the Huskies don't have a single recruit for 2014. But Pasqualoni's not worried.

"Obviously the high-level guy you're absolutely sure of, you always welcome," the coach said via the Hartford Courant's Desmond Conner. "But this year we don't have a large group of seniors. I think our senior count is 11. So our philosophy has always been, the ideal condition, is to have them in your camp over the summer. We're working very, very hard on the actual recruitment process of having them come into our camp and the response to that has been very good."

Part of the plan includes holding high school camps much of next month and using it as a means of finding talent.

"Last year 13 of the 25 players we signed were in our camp, so that's where our focus is right now," Pasqualoni continued. "The staff is out this week. This is the last week of being out on the road. … I think we're where we want to be in the overall evaluation process. I think we know who the top guys are in our key areas. I think we have a good handle on not only the top guys, but those players who are in the Division I prospect category. Between now and the end of June we'll try hard to get these guys on campus and work with them and be sure of what we're doing, and try to get some commitments."

This is an important season for Pasqualoni. If the Huskies don't show marked improvement, it's fair to think that his job could be on the line.