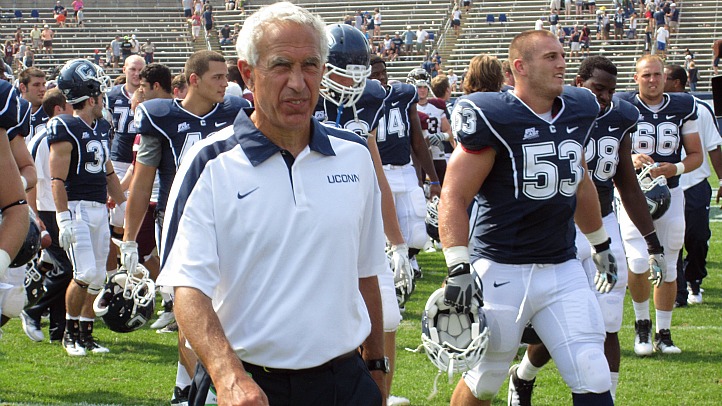 Other than the news that quarterback backup Scott McCummings was lost for the season, the other big development this weekend was that the Huskies began training camp in preparation for the 2013 season. The team is coming off back-to-back 5-7 seasons under Paul Pasqualoni, and with UConn in a new, unproven conference, there's even more pressure to do well.

But let's not get too far ahead of ourselves; first things first: how did the team look after some eight months off?

"First day of preseason...as I said to the kids, we had so much to do today," Pasqualoni said according to UConnHuskies.com. "We did a lot, there's a lot on their plate plus we had some conditioning this morning. I think considering everything, these kids have been going since early this morning, everything went well. Obviously we've got some things to clean up, but the approach, I'm happy with their enthusiasm and their effort. We'll be working until late tonight on the film, but that's what preseason is for."

McCummings, a wildcat quarterback during his first two seasons who tore his left Achilles tendon on Saturday, was getting work at wide receiver before his injury. It sounds like an interesting development given McCummings' size and speed, and the lack of depth at the position behind starters Geremy Davis and Shakim Phillips.

"We just felt that Scott is a very good athlete and we wanted to do something to utilize him more," Pasqualoni said a day before McCummings was injured. "I want to see him out there for a good solid period of time to see if there's any chance he can help us out there. He knows all the formations, he knows all the plays he knows the routes because he's been a quarterback, so he's the one guy you could say `okay Scott here's the formation,' he knows the formation...he knows all that stuff so it made sense for us to get him out there. Plus it will give us a chance to get him out there and get him running...I'm excited about it. And he can catch the ball, I didn't see him drop one out there. He is excited about it. He wants to help the team, so this may give him a chance to give him more plays."

The biggest issue facing this team is replacing all the defensive talent lost to the NFL. Gone are LBs Sio Moore and Trevardo Williams, and CBs Blidi Wreh-Wilson and Dwayne Gratz.

"I like the guys we have that are going to replace the guys we lost," Pasqualoni continued. "I think they will do a good job of replacing those linebackers we lost. I think Byron Jones will help us replacing one of those corners. Between Taylor Mack and Jhavon Williams, we'll be pretty solid on the other corner. On the line, Julian Campenni has come back in great shape, Andreas Knappe is in great shape for a 6-9, 300 guy and he's come a long way in a year, so he may be able to help us. We have a lot of work to do, we have 28 practices to go and we need every one of them. But I think the guys that need to step up are going to step up."