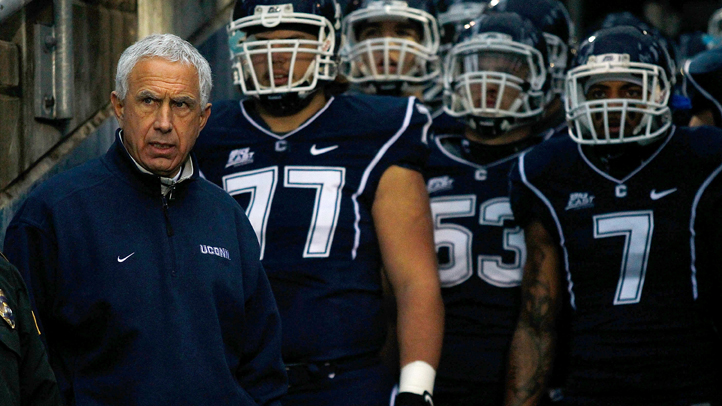 Two weeks between games can be good and bad. Upside: it gives coaches and players time to fix what's wrong; downside: it also gives them plenty of time to sit with their latest loss, in the case of the Huskies, an embarrassing season-opening loss to Towson.

Coach Paul Pasqualoni said his team has mentally moved on but there's still the matter of righting a ship that was already dangerously close to capsizing.

"I think the kids and staff have looked at the film, evaluated it and are using it as an opportunity to teach and for us to get better," Pasqualoni told the Hartford Courant Thursday. "And the players are using it as an opportunity to learn from it, and to move on, and to understand that we played, clearly, a I-AA team, a very good I-AA team, and made just made too many mistakes. You can't win college football games making those kinds of mistakes. As long as you learn from it and get better from it ... it's a costly deal but in the long run, the long picture of a season with a challenging schedule, I think it has a chance to make us better for what we went through. That's what I hope happens."

Which is exactly what Pasqualoni has to say. But talk, as they say, is cheap. The reality is that the Huskies are 0-1 with Maryland and Michigan coming up, and Pasqualoni is 5-7 in back-to-back seasons. But this is a "what have you done for me lately?" business, which is why it does no good for the coach to dwell on the past.

"I could have anticipated some things ... [Towson] did a couple things they didn't show [on film]," Pasqualoni conceded. "It was good coaching on their part. … You always go back as a coach and say ... 'Maybe I could have adjusted faster.' The problem is when you get in the game, the speed of the opponent is usually a little bit different than the scout team you're practicing against, so you hope there's a realization and a sense of urgency on the players' part to understand how exact they've got to be."
Here's the problem: If Towson was moving to fast for the Huskies, what's going to happen against the Terps and the Wolverines?

"The speed of the game is going to be fast, although you're trying to make the scout team go as fast it can," the coach said. … "We've worked on those things where we said, 'OK, here's what we, I could have done better.'"

Unless there are drastic changes, this could be a recurring conversation.