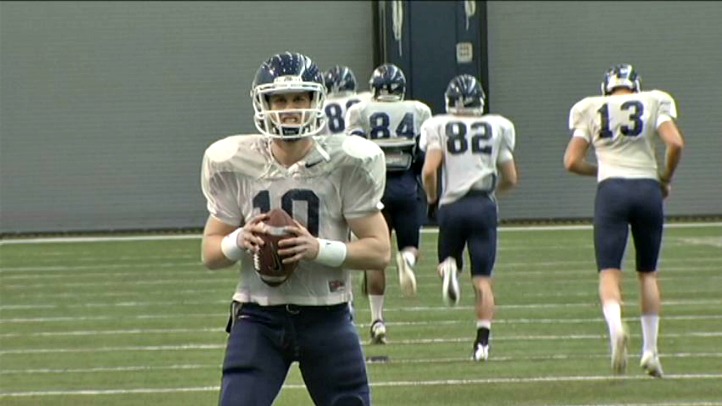 The 2012 season officially begins in nine days. UConn hosts UMass at the Rent and unlike a year ago, the quarterback situation has been settled for weeks. Coach Paul Pasqualoni has entrusted the job to junior college transfer Chandler Whitmer and the hope is that he, along with a strong group of skill position players, can elevate an offense that was probably best described as inconsistent in 2011.

On Wednesday, the Hartford Courant's Desmond Conner spoke with Pasqualoni about how his starting quarterback is settling into his new gig.

"I don't know a quarterback in America that's really settled in," he said. "I think that whole unit, not just Chandler … Johnny [McEntee], Scotty [McCummings] and Casey's [Cochran] doing well with a broken hand. He's in there doing as much as he can. I'll put it in this category: I'm pleased with the combined effort. attitude and approach of that unit."

That's about as expansive as you can expect Pasqualoni to get. But with just over a week before the season-opener, it wouldn't much matter what he said; there isn't time to do anything other than play musical chairs with the depth chart, which is what we saw early last season with mixed results. This time, however, Pasqualoni sounds committed to Whitmer, which will not only benefit the quarterback's progress, but it will allow him to develop a rhythm with the other 10 guys on the offense.

A non-trivial part of any success this unit has starts up front with the five big guys tasked with protecting Whitmer. Guard Adam Masters and tackle Kevin Friend both confirmed to Conner that the o-line has improved from last season.

"It's different," Masters said of his 2012 linemates. "It's not smash-mouth, power every play like we used to be, and if anything, that helps us because it confuses the defense, too. We have a lot of options, a lot of variety with our play-calling. We didn't have that before. The defense knew what was coming (in Tuesday's team scrimmage) … they just couldn't stop it," he said.

For another perspective from outside the greater UConn area, the Post-Standard, the paper of record when Pasqualoni coached at Syracuse, offered this outlook for the Huskies' 2012 season: "If former SU coach Paul Pasqualoni and his longtime sidekick, offensive coordinator George DeLeone, find a serviceable quarterback and a couple of legitimate wideouts the Huskies could surprise some foes in a wide-open Big East."

When other people say it doesn't sound quite so preposterous. In fact, it seems downright possible. Now it's just a matter of making sure Whitmer can fulfill the "serviceable quarterback" role.