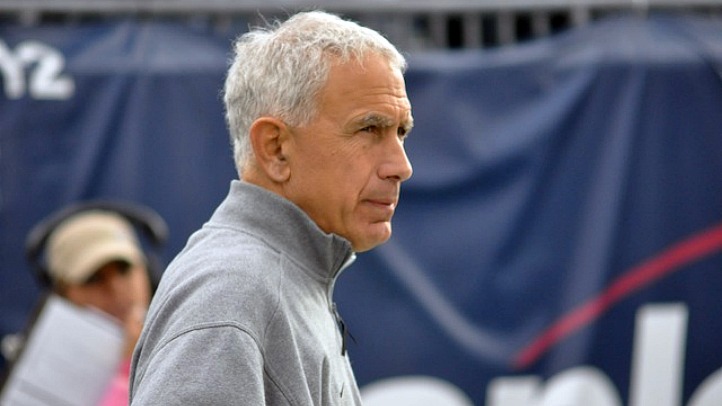 Before the Big East spring meetings wrapped up for the long holiday weekend, ESPN.com Big East blogger Andrea Adelson caught up with Huskies head coach Paul Pasqualoni for a brief Q&A. One of her first questions -- you guessed it -- was about the yet-to-be-decided quarterback situation.

Pasqualoni's response was a variation of the one he's been giving for two seasons now.

"Chandler Whitmer had the best production in the spring game, so I think there are members of the media, and I've been through this before, that like to choose the quarterback," Pasqualoni said. "If the members of the media, based on the spring game, were choosing the starting quarterback, Chandler Whitmer would be the front-runner. But I've been in this long enough to know that it's not based on one performance. It's the body of work over an extended period of time. They all did some pretty good things in the spring. Having said that, we're going to come back into preseason camp and we're going to continue the competition but I would like very, very much to make a decision as soon as I can."

While Pasqualoni didn't tread any new ground on his thinking when it comes to naming a starter, at least there was a standout from spring practices for the media to embrace. A year ago, the position was truly muddled; this time around, Whitmer, a transfer, opened some eyes, Johnny McEntee has a year's worth of experience, which helps his chances to keep the job. And then there's freshman Casey Cochran, one of the Huskies' highly touted recruits. So now the problem becomes finding reps for all those competing for spots (which include sophomores Michael Nebrich and Scott McCummings).

"We did a great job of managing the reps in the spring, so we'll go back in and we'll manage the reps the same way," Pasqualoni told Adelson. "They'll each get a significant number of reps. Scotty McCummings will still have the majority of the Wildcat reps, although he works on the entire game plan and we're trying to develop him as a drop-back passer as well. We'll divide them up and we'll do the best we can with it.

Adelson also asked what many fans have been thinking: if Cochran doesn't come in and win the starter gig, will he be redshirted?

"We haven't discussed any of that yet," said Pasqualoni. "We really don't talk about redshirting anyone at this point. My policy is I want them coming in with a non-redshirt mentality when they get on campus. My fear has always been if you start to talk that redshirt mentality and they come into camp and they're not ready enough, it affects their conditioning and the way they go through practice. I want them coming in and all competing."

We've said it before but it bears repeating: given how the offense fared last season, these are good problems to have.